#1000/#5000 Grit with Box | Whetstone
Regular price
€60,00 EUR
Sale price
€42,00 EUR
/
Fast Delivery & Free Shipping
---
In stock, ready to ship

Inventory on the way
SPECIAL FEATURES
The Knife Sharpening Stone is an indispensable tool that is necessary for every kitchen.
【Premium quality】: Our Knife Sharpening Stone Set is made of durable white corundum (aluminum oxide). The straight base is made of natural acacia wood with non-slip rubber strip. Angle guide tool included to help sharpen at correct angle. And Flattening Stone is used to level the uneven surface caused due to repeated use, making it flat. As it is a water stone- No expensive honing oil needed.
【Individual Whestone】: Offering two individual whetstones for precision sharpening. #1000 grit stone is your all-purpose stone to sharpen dull or damaged blades, and #5000 to return that mirror polish and screamingly sharp edge to your blade. The individual whetstone set last much longer than the typical combination set, can sharp ANY BLADE(except ceramic), Kitchen knives, scissors, axe & razor, hunting knife, chisel, garden blades tools and more.
【Safe and easy to use】: Knife sharpener stone kit is super easy to assemble and comes with a silicone base that holds the stone within the non-slip acacia wood base so there is absolutely no slippage while you work. The Knife Sharpening Angle Guide will put your blade on the optimal angle for you and protect your fingers throughout the sharpening process.
【Wonderful gift】: We provide high quality customized acacia wood box to storage and protect the whetstone, which is BPA-free and avoid harmful bacteria, 100% organic acacia wood make it durable and easy to clean. A perfect gift for your family and friends.
【100% Satisfaction】: AFTER-SALE SERVICE: We promise 18 months worry-free and friendly customer service. NO COMPROMISE on quality! Don't be fooled by cheap knockoff's. Note: Soak the sharpening stones in water for around 10 minutes before sharpening, Only tap water; The flattening stone also needs to be soaked in water for 10 minutes with the stones before flattening.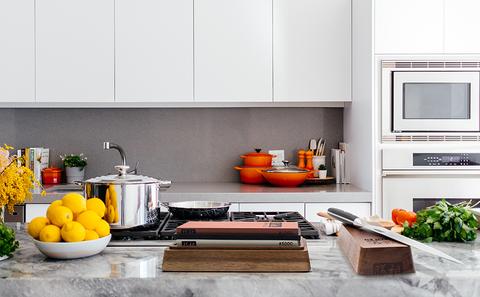 Antique Customized Acacia Box:
High quality customized acacia wood box to storage and protect the whetstone
BPA-free and avoid harmful bacteria
100% organic acacia wood make it durable and easy to clean.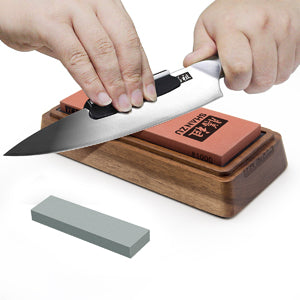 How to sharp your knife? 
Soak the sharpener stone in the water for about 5 minutes,the stone can fully absorb moisture.
According to the different knives to choose your sharpening angle: 17 degree:Razor, Sushi knife, chef knife and kitchen knife; 20 degree:Pocket knife, fruit knife and boning knife; 25 degree:Field knife; 30 degree:Bayonet or field knife; 40 degree:Survival knife
Use the bamboo base to hold the whetstone and wear angle guide for knife and prepare for grinding.
Use sharpener stone,grinding back and forth according to the blade angle. First use # 1000 grinding 10-15 minutes for a rough grinding, then use #5000 grinding 10-15 minutes for a fine grinding.
After finish sharpening the knife, wiped the knife with a wet cloth or rinse it with water, and rinse the sharpening stone directly with water and put it in the air to dry.
In order to keep humidity and prevent the temperature from being too high, water or oil should be added properly in the process of sharpening.
Product details: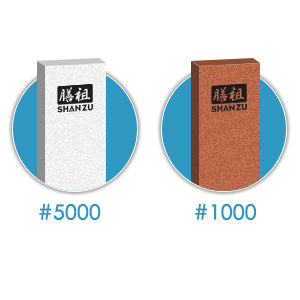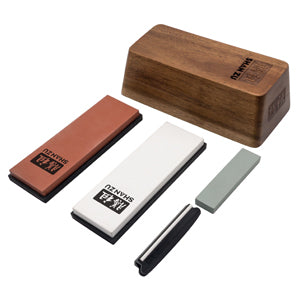 Attentions:
Do not use whetstone to sharpen serrated blades and ceramic knife

Do not only use the middle of the sharpening stone, please make full use of the surface of whetstone
Individual Sharpening Stone Set

1000 Grit Water Stone
5000 Grit Water Stone
2 Silicone holders
Flattening stone
Angle guide
Antique customized Acacia box

***Due to COVID-19, deliveries may be delayed since shipping carriers prioritizing essential items first***
due to the ongoing Coronavirus pandemic our delivery partners, which include Royal Mail, UPS and Fedex, are all doing their best to adapt to an everchanging situation.  Please be patient and use the tracking details provided once we have despatched your order.  Thank you for your understanding at what is a very difficult time for all of us.
Stay Safe
Our goal is to offer you the best shipping options, no matter where you live. Every day, we deliver to hundreds of customers across the world, ensuring that we provide the highest levels of responsiveness to you at all times. 
The time frame for order delivery is divided into two parts:
Processing time: Order verification, quality check, and packaging. All orders are sent to the fulfillment center for dispatch within 1-2 Business days after the order is placed.
Shipping Details
Shipping to the Austria, Germany, Italy, France, Sweden, Netherlands, Spain, Belgium, Cyprus, Denmark, Finland, Greece, Hungary, Iceland, Ireland, Liechtenstein, Lithuania, Norway, Poland, Portugal, Romania, Switzerland, United States.
The above countries enjoy free shipping service, and we are unable to deliver orders to customers in other countries and regions.
Shipping Time   5-20 Business Days.

Please note that all packages are shipped from SHAN ZU, there is no additional tax on our products, which means you only need to pay the final sale price when shopping in SHAN ZU.
Notes:
1) Express Shipping is not available for P.O. Boxes and APO/FPO addresses.
2) Shipping Time does not include a 1-2 Business days processing period required to process your order from the date your order is placed.
3) We will make every effort to deliver your package ASAP. However, additional time may be required due to invalid addresses and custom clearance issues.
4) Should your package not arrive within 40 days after you have placed your order, you must contact Customer Support within 180 days after your order was placed.
5) If an order is refused, we will charge $10 per order and credit back the balance of the order.
6) We're improving our delivery process to make your packages even safer, so processing orders may be delayed.
Email: shanzu@shanzuchef.com
Tel: +86 15937951755
Merchant Address:
2503, 25/F, Shangmei Centre Building,

Qinghu Road, Qinghua Community, Longhua Street,

Longhua District, Shenzhen, Guangdong, China