SHAN ZU
2 in 1 #1000/#6000 Grit | Whetstone
📢 This product is not eligible for multi-buy discounts.
Specifications
Color: white and red

Number of pieces: 4

Material: white corundum sharpening stone
Storage box: bamboo wood

Package weight: 998 grams

Product dimensions: 8.46 x 3.74 x 2.17 inches, 21.50 x 9.50 x 5.50 cm
Contents of the box
4-PCS Sharpening Stone with Box:

Bamboo wood base×1

#1000/#6000 whetstone (coarse/fine sharpening) ×1

Silicone corner guide ×1

Silicone base ×1
Shipping and Return
SHIPPING POLICY

Delivery to Austria, Germany, Italy, France, Sweden, United Kingdom, Netherlands, Spain, Belgium, Cyprus, Denmark, Finland , Greece, Hungary, Iceland, Ireland, Liechtenstein, Lithuania, Norway, Poland, Portugal, Romania, Switzerland, United States.
The above countries have shipping service free of charge, and we are unable to deliver orders to customers located in other countries or regions.
Shipping Lead time 5-20 business days.
Please Note that all packages are shipped by SHAN ZU, there is no additional tax on our products, which means you only need to pay the final sale price when you purchase from SHAN ZU.
Learn more about shipping policy.
RETURN POLICY

After receiving the product, please check "whether the product is defective" and "whether it matches the contents of the order". If any of the above issues arise, please contact us by email: shanzu@shanzuchef.com. We will respond to you within 48 hours of sending your return request.
IMPORTANT: For items that arrive damaged or defective, YOU MUST provide photos/videos to the support your statement that the item arrived damaged or malfunctioned. If a customer refuses to send or fails to send photos/videos of an allegedly damaged or malfunctioning item, such return will be treated as "buyer's remorse" and the customer will be solely responsible for reshipping the item. the article. The customer is also subject to the 15% restocking fee as well as shipping costs paid by the seller. If a customer claims an item is defective/damaged, they must provide proof before returning it, no exceptions. Use the contact form to submit photos/videos for your return request.
SPECIAL FEATURES
The knife sharpening stone is an essential tool for any kitchen.

【Knife Sharpening Master】:The SHAN ZU sharpening stone is designed to make your knives razor sharp, and to provide an extra fine polish on your blades. This ensures you can cut, slice, dice food with ease.
【2-in-1 Design】:The white corundum sharpening stone has 2 different sides - a coarse side (1000 grit) and a finer side (6000 grit). The 1000-grit face is capable of restoring even the dullest blade to a straight, sharp edge, and the 6000-grit face allows this edge to be sharpened and polished to stunning sharpness.
【Anti-skid Base】:The non-slip silica gel and bamboo base keeps the whetstone securely in place, ensuring maximum safety when sharpening.
【Angle Guide Included】:For a better sharpening experience, an angle guide is included to maintain the sharpening angle and save energy at the same time.
【Whetstone Specification】:The red side has a grain size of 1000; the white side has a grain size of 6000. The total size of the stone is 180*60*27mm.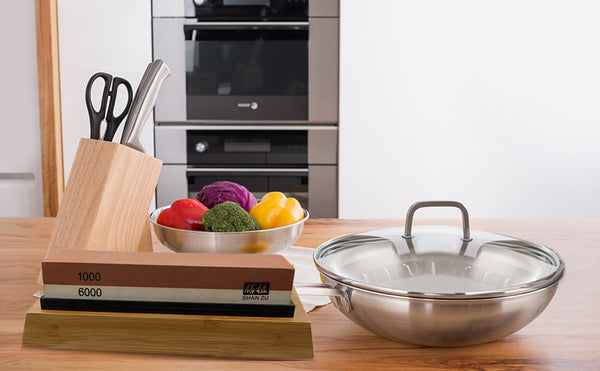 HOW TO SHARPEN YOUR KNIFE?
1. Dip the whetstone in water for about 5 minutes, then the stone can completely absorb the moisture.
2. Choose your sharpening angle depending on the different knives: 17 degrees: Razor, sushi knife, chef's knife and kitchen knife; 20 degrees: Pocket knife, fruit knife and boning knife; 25 degrees: Field knife; 30 degrees: Bayonet or field knife; 40 degrees: Survival knife.
3. Use the bamboo base to hold the whetstone and carry the angle guide for the knife and prepare for sharpening.
4. Using the whetstone, sharpen back and forth according to the angle of the blade. First use #1000 stone for 10-15 minutes for coarse sharpening, then use #6000 stone for 10-15 minutes for fine sharpening.

5. After finishing sharpening the knife, wipe it with a damp cloth or rinse it with water, then rinse the sharpening stone directly with water and put it in the open air so that it it dries.
In order to maintain humidity and prevent the temperature from being too high, water or oil should be added appropriately during the sharpening process.
Fast and Free Delivery Anywhere in the World
Easy Returns and Refunds Within 30 Days
Guarantee the Security of Your Payment
A Child's Game to Master
Our whetstone kit is extremely beginner-friendly and easy to assemble.
Versatile Use
Sharpens fillet knives, sushi knives, pruning shears, straight razor blades, scissors, axes, hunting knives and much more.
L'avis de Nos Chefs Pros
Ne nous croyez pas sur parole, lisez ces témoignages!
Rejoignez le club exclusif SHAN ZU!
What are the shipping costs?
Free standard delivery on all orders. SHAN ZU kitchen knife on sale worldwide.
*The following regions are excluded: United Kingdom, Ireland, Australia, Canada, Africa, Middle East.
Can items be delivered to my address?
SHAN ZU kitchen knife on sale worldwide.
*The following regions are excluded: United Kingdom, Ireland, Australia, Canada, Africa, Middle East.
When will my order be delivered?
Delivery time depends on the destination. In general, it takes between 3 and 14 days. International shipping is possible to most countries. If we cannot deliver to your country, we will contact you. In addition, we will notify you of your order by sending you an "order confirmation" and a "shipping notification" after you have placed your order.
Returns are accepted for 30 days from the delivery date, in accordance with our refund policy. Just send us an email and we'll tell you what to do.

SHANZU official email: shanzu@shanzuchef.com
What is the best way to clean and maintain my SHAN ZU knife?
To clean and maintain your knife, it is best to follow these steps: First, clean the blade with warm water and dish soap. Be sure to rinse and dry the blade well to prevent it from rusting. Next, use a sharpening steel to sharpen the blade.

Next, use a sharpening steel to sharpen the blade. This will maintain the sharpness and ensure that the knife is in good working order.

If the blade is very dirty or if food has stuck to it, you can use a bristle brush soft to clean it delicately. After cleaning and sharpening the blade, apply a thin layer of oil to the blade and handle. After cleaning and sharpening the blade, apply a thin layer of oil to the blade and handle, in order to prevent rust and keep the knife in good condition. Finally, store the knife in a safe and dry place, away from heat and humidity. Finally, store the knife in a safe, dry place, away from heat and humidity. A knife block or knife drawer organizer is a good option, as it will protect the blade and prevent accidents.
How to sharpen a SHAN ZU knife?
To sharpen a knife, you will need a SHANZU sharpening stone or a knife sharpener. To use a sharpening stone, first soak the stone in water for about 10 minutes. Next, lay the knife flat on the stone and tilt the blade so that it forms a 10 to 15 degree angle with the stone. Using long, even strokes, move the blade across the stone in a back-and-forth motion, making sure to maintain the angle of the blade. After a few strokes, move the blade to the other side of the stone and repeat the process. You must sharpen the blade along its entire length and may need to repeat the process several times to achieve the desired sharpness level.
What is the difference between Damascus steel and German steel?
What is Damascus steel?
The origin of the name "Damascus steel" is controversial: two Islamic scholars, Al-Kindi and Al- Biruni (c. 800-873 CE), both wrote about swords and sword steels based on appearance, the geographic location of where they were produced or forged, or the name of the black-smith. Both authors also mention the terms "damscene" or "damascus" when describing the swords to some extent.
Based on these references, there are three possible sources where the term "comes from." Damascus" in the context of steel:
Al-Kindi refers to swords forged in Damascus in Siberia as "Damascene", but it is important to note that these swords are not described as having a wavy appearance on the surface of the steel.Al-Biruni refers to a swordsmith called Damascus who made crucible steel swords.In Arabic, the word "damascus" means "watered", and Damascus blades are often described as having a water pattern on their surface.
The most common explanation is that the steel is named after the capital of Syria, Damascus, the largest of the ancient cities Levant. The most common explanation is that the steel is named after the capital of Syria, Damascus, the largest city in the ancient Levant. These may be swords made or sold directly in Damascus, or simply the appearance of the typical patterns, in comparison with damask fabrics, which also bear the name Damascus.
Qu Is German steel?
German knives are usually made of stainless steel, which has a Rockwell rating between 56 and 58. Stainless steel contains chromium. This is what lowers the Rockwell index. The advantage is that the knife blade is resistant to corrosion and rust.
Cooks generally agree that German-style stainless steel knife blades are stronger than German-style stainless steel blades. Japanese type. Cooks generally agree that German-style stainless steel knife blades are stronger than Japanese-style blades. Its durability allows you to use it for more cutting and chopping tasks.
The softer characteristic of steel still allows for a sharp edge, but stainless steel will require you to sharpen and trim it more often. The softer steel also makes the blade easier to sharpen, although a stainless steel blade means that a German knife will lose its edge more quickly than its Japanese counterpart, which is made of high-carbon steel.
Parfait
Parfait encore! Merci à vous à Shan Zu
Good product
Satisfied by the product. The grit is surevaluated (you can divide by almost 3). I don't give 5 stars because they work with Amazon for delivery and I hate giving money to them.
Hi,thanks for your feedback, do you mean the Amazon delivery ask for the tip?
It looks good but I'm finding it difficult to use. Help.
Excellent tool !
Helps whet the knives ! Great ! Buy it !