SHAN ZU RHINO
SHAN ZU Camping Knife 6" | Rhino Series
Note: A ferro rod is not included.
Specifications
Blade material: Sandvik 14C28N

Rockwell hardness: 58 - 62 HRC

Color: Clear black blade

Handle material: G10

Neck Style: Full Tang

Handle design: Ergonomic handle shape

Manufacturing Method: Forged

Blade sharpness: Normal

Blade shape: V-shaped blade

Blade Pattern: Hammered Texture

Blade Surface: Black Oxide Plating and Stone Wash

Scabbard Material: Microfiber Synthetic Leather

Unique sheath: Integrated belt loop and snap button closure

Knife type: Chef knife, meat knife, boning knife, camping knife, fishing knife, barbecue knife, hunting knife, butcher knife

Application: Cooking, BBQ, Hunting, Camping, Hiking, Fishing, Travel, Beach BBQ, Patio BBQ

Can it be put in the dishwasher: No
Contents of the box
Number of pieces: 1
Knife size: 10.83*2.07*0.79in / 275*52.8*20mm
Blade thickness: 4.0mm
Knife weight: 277g
Blade length: 5.79in / 147mm
Scabbard size: 9.05*2.76*6.50in / 230*70*165mm
Scabbard thickness: 10mm
Knife weight: 57g
Shipping and Return
SHIPPING POLICY

Delivery to Austria, Germany, Italy, France, Sweden, United Kingdom, Netherlands, Spain, Belgium, Cyprus, Denmark, Finland , Greece, Hungary, Iceland, Ireland, Liechtenstein, Lithuania, Norway, Poland, Portugal, Romania, Switzerland, United States.
The above countries have shipping service free of charge, and we are unable to deliver orders to customers located in other countries or regions.
Shipping Lead time 5-20 business days.
Please Note that all packages are shipped by SHAN ZU, there is no additional tax on our products, which means you only need to pay the final sale price when you purchase from SHAN ZU.
Learn more about shipping policy.
RETURN POLICY

After receiving the product, please check "whether the product is defective" and "whether it matches the contents of the order". If any of the above issues arise, please contact us by email: shanzu@shanzuchef.com. We will respond to you within 48 hours of sending your return request.
IMPORTANT: For items that arrive damaged or defective, YOU MUST provide photos/videos to the support your statement that the item arrived damaged or malfunctioned. If a customer refuses to send or fails to send photos/videos of an allegedly damaged or malfunctioning item, such return will be treated as "buyer's remorse" and the customer will be solely responsible for reshipping the item. the article. The customer is also subject to the 15% restocking fee as well as shipping costs paid by the seller. If a customer claims an item is defective/damaged, they must provide proof before returning it, no exceptions. Use the contact form to submit photos/videos for your return request.
SHAN ZU Camping Knife - Rhino Serie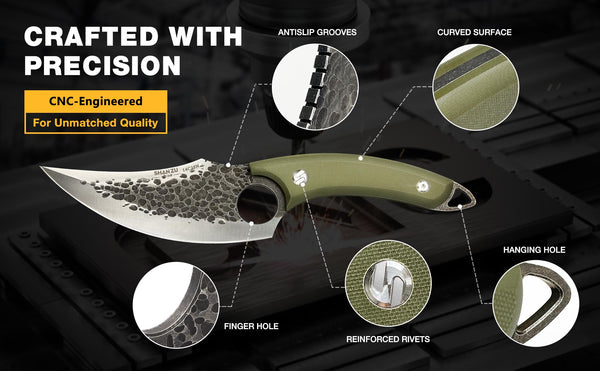 Unleash the power of nature!

Blade Material: Made from Swedish Sandvik 14C28N steel using advanced CNC technology, the Rhino chef's knife blade guarantees premium sharpness and strength superior to rust.
Handle Material: The G10 handle of Rhino camping knives offers both strength and a secure grip, and embodies durability and ergonomic design.
Full tang construction: The Rhino hunting knife has a full tang, which gives it strength and resistance to any test.
Blade Surface: Treated with black oxide and stone washed, the CNC-manufactured blade provides both a protective finish and a rugged appearance.
Easy to carry: Accompanied by a stylish microfiber sheath, Rhino hunting knives are your go-to tool for all your outdoor trips, from forest trails to lakeside camps.
Embark on the ultimate journey into the wilderness with the SHAN ZU Rhino camping knife.
Camping knives and wilderness survival are closely related, as camping knives are often considered essential tools for wilderness survival.
Versatile tool: Ideal for wilderness survival, the camping knife effortlessly cuts, prepares food and makes essential tools.
Fire Starting: Equipped with features like built-in ferrocerium rods, these knives make starting a fire in the wild simple.
Compact power: Lightweight and versatile, it's the essential companion for any outdoor adventure.
User guide
When cutting twigs or wood chips, be sure to stand firmly and hold the blade perpendicular to the object being cut.
use the notches on the back of the knife or the flint provided to produce sparks.
clean the blade regularly and ensure that the edge remains sharp.
When not in use, the blade should be stored in a safety case or container to prevent accidental cuts.
Fast and Free Delivery Anywhere in the World
Easy Returns and Refunds Within 30 Days
Guarantee the Security of Your Payment
Couteau de Camping SHAN ZU Rhino
Le rhinocéros, communément appelé "rhinocéros", est une créature puissante et majestueuse qui parcourt la Terre depuis des millions d'années.
Tout comme le rhinocéros, réputé pour sa formidable force et sa résistance dans la nature, le couteau de boucherie Rhino Camping Outdoor se targue d'une durabilité inégalée. Faisant écho à la nature singulière et emblématique de la corne du rhinocéros, ce couteau de chasse offre un tranchant unique pour les aventures en milieu sauvage, garantissant ainsi la protection de tous les amateurs de plein air.
Take advantage of the preferential rate now! 💥💥💥End day 9/30/2023
Craftsmanship
The Rhino camping knife from SHAN ZU combines ancestral art with contemporary techniques. Made from 14C28N steel, each step from forging to assembly reflects the precision and dedication of a craftsman. It offers superior durability and sharpness.
Reliable Rhino Knife
For wilderness survival and outdoor adventures, the Rhino knife is essential. Whether cutting ropes, building shelters or preparing meals, its unmatched sharpness and durability ensure that every task is accomplished effortlessly.
Versatile outdoors
Our outdoor butcher knives come with a delicate sheath. You can hang it on your belt for easy carrying when camping outdoors. It can also be used as a kitchen knife, barbecue knife, camping knife and much more!
Practical Perfect Gift
🎁 This is a great gift. Come and please your loved ones with a wonderful surprise!
What are the shipping costs?
Free standard delivery on all orders. SHAN ZU kitchen knife on sale worldwide.
*The following regions are excluded: United Kingdom, Ireland, Australia, Canada, Africa, Middle East.
Can items be delivered to my address?
SHAN ZU kitchen knife on sale worldwide.
*The following regions are excluded: United Kingdom, Ireland, Australia, Canada, Africa, Middle East.
When will my order be delivered?
Delivery time depends on the destination. In general, it takes between 3 and 14 days. International shipping is possible to most countries. If we cannot deliver to your country, we will contact you. In addition, we will notify you of your order by sending you an "order confirmation" and a "shipping notification" after you have placed your order.
Returns are accepted for 30 days from the delivery date, in accordance with our refund policy. Just send us an email and we'll tell you what to do.

SHANZU official email: shanzu@shanzuchef.com
What is the best way to clean and maintain my SHAN ZU knife?
To clean and maintain your knife, it is best to follow these steps: First, clean the blade with warm water and dish soap. Be sure to rinse and dry the blade well to prevent it from rusting. Next, use a sharpening steel to sharpen the blade.

Next, use a sharpening steel to sharpen the blade. This will maintain the sharpness and ensure that the knife is in good working order.

If the blade is very dirty or if food has stuck to it, you can use a bristle brush soft to clean it delicately. After cleaning and sharpening the blade, apply a thin layer of oil to the blade and handle. After cleaning and sharpening the blade, apply a thin layer of oil to the blade and handle, in order to prevent rust and keep the knife in good condition. Finally, store the knife in a safe and dry place, away from heat and humidity. Finally, store the knife in a safe, dry place, away from heat and humidity. A knife block or knife drawer organizer is a good option, as it will protect the blade and prevent accidents.
How to sharpen a SHAN ZU knife?
To sharpen a knife, you will need a SHANZU sharpening stone or a knife sharpener. To use a sharpening stone, first soak the stone in water for about 10 minutes. Next, lay the knife flat on the stone and tilt the blade so that it forms a 10 to 15 degree angle with the stone. Using long, even strokes, move the blade across the stone in a back-and-forth motion, making sure to maintain the angle of the blade. After a few strokes, move the blade to the other side of the stone and repeat the process. You must sharpen the blade along its entire length and may need to repeat the process several times to achieve the desired sharpness level.
What is the difference between Damascus steel and German steel?
What is Damascus steel?
The origin of the name "Damascus steel" is controversial: two Islamic scholars, Al-Kindi and Al- Biruni (c. 800-873 CE), both wrote about swords and sword steels based on appearance, the geographic location of where they were produced or forged, or the name of the black-smith. Both authors also mention the terms "damscene" or "damascus" when describing the swords to some extent.
Based on these references, there are three possible sources where the term "comes from." Damascus" in the context of steel:
Al-Kindi refers to swords forged in Damascus in Siberia as "Damascene", but it is important to note that these swords are not described as having a wavy appearance on the surface of the steel.Al-Biruni refers to a swordsmith called Damascus who made crucible steel swords.In Arabic, the word "damascus" means "watered", and Damascus blades are often described as having a water pattern on their surface.
The most common explanation is that the steel is named after the capital of Syria, Damascus, the largest of the ancient cities Levant. The most common explanation is that the steel is named after the capital of Syria, Damascus, the largest city in the ancient Levant. These may be swords made or sold directly in Damascus, or simply the appearance of the typical patterns, in comparison with damask fabrics, which also bear the name Damascus.
Qu Is German steel?
German knives are usually made of stainless steel, which has a Rockwell rating between 56 and 58. Stainless steel contains chromium. This is what lowers the Rockwell index. The advantage is that the knife blade is resistant to corrosion and rust.
Cooks generally agree that German-style stainless steel knife blades are stronger than German-style stainless steel blades. Japanese type. Cooks generally agree that German-style stainless steel knife blades are stronger than Japanese-style blades. Its durability allows you to use it for more cutting and chopping tasks.
The softer characteristic of steel still allows for a sharp edge, but stainless steel will require you to sharpen and trim it more often. The softer steel also makes the blade easier to sharpen, although a stainless steel blade means that a German knife will lose its edge more quickly than its Japanese counterpart, which is made of high-carbon steel.
un couteau puissant
Un excellent couteau pour le plein air.
😍🔥J'adore mes nouveaux couteaux.
J'ai adoré mes nouveaux couteaux à première vue très élégants, des manches aux lames. Ensuite, la sensation qu'ils procurent dans mes mains est si équilibrée qu'ils sont un plaisir à tenir. Et leur pouvoir de coupe était incroyable. J'ai trouvé mes nouveaux couteaux et j'en suis très heureux. 🔥🔥SHAN ZU Les adore...