SHAN ZU PRO
7-Pcs Damascus Knife Block | SHAN ZU PRO
Specifications
Steel: Premium Japanese AUS-10V steel core 33 outer layers of stainless steel on each side

Cutting edge: 15 degrees per side using the traditional Honbazuke method in 3 steps

Handle: G10 material

Miter: Complete Miter

Pattern: Breathtaking Damascus raindrop pattern
Contents of the box
7-Pcs Damascus Knife Block | SHAN ZU Pro includes:

A chef's knife of 8
A 7-inch santoku knife
An 8-inch bread knife
A 5.8 utility knife
A 3.75 inch paring knife
An 8-inch sharpening steel
A knife block
Shipping and Return
SHIPPING POLICY

Delivery to Austria, Germany, Italy, France, Sweden, United Kingdom, Netherlands, Spain, Belgium, Cyprus, Denmark, Finland , Greece, Hungary, Iceland, Ireland, Liechtenstein, Lithuania, Norway, Poland, Portugal, Romania, Switzerland, United States.
The above countries have shipping service free of charge, and we are unable to deliver orders to customers located in other countries or regions.
Shipping Lead time 5-20 business days.
Please Note that all packages are shipped by SHAN ZU, there is no additional tax on our products, which means you only need to pay the final sale price when you purchase from SHAN ZU.
Learn more about shipping policy.
RETURN POLICY

After receiving the product, please check "whether the product is defective" and "whether it matches the contents of the order". If any of the above issues arise, please contact us by email: shanzu@shanzuchef.com. We will respond to you within 48 hours of sending your return request.
IMPORTANT: For items that arrive damaged or defective, YOU MUST provide photos/videos to the support your statement that the item arrived damaged or malfunctioned. If a customer refuses to send or fails to send photos/videos of an allegedly damaged or malfunctioning item, such return will be treated as "buyer's remorse" and the customer will be solely responsible for reshipping the item. the article. The customer is also subject to the 15% restocking fee as well as shipping costs paid by the seller. If a customer claims an item is defective/damaged, they must provide proof before returning it, no exceptions. Use the contact form to submit photos/videos for your return request.
SPECIAL FEATURES
The handle of each Classic series knife is engraved with a 膳, a word associated with healthy eating. A Damascus knife set with a wide range of knives that will help you with almost any cutting task in the kitchen.
Real Damascus steel
True 67-layer damask material that combines a Japanese AUS-10 super steel core with 33 stainless steel outer layers combined on each side.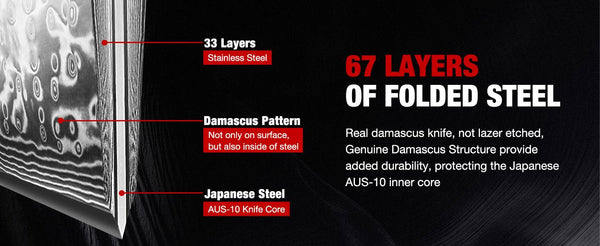 A centuries-old know-how
Thanks to the meticulous application of century-old know-how, we guarantee the durability of our SHAN ZU kitchen knives.

Each step, from bending and melting the steel to forging and sharpening the blade, helps create a product that is not just a tool, but an enduring culinary companion .
Functional use: Master your cooking skills
The PRO Series 7-Piece Knife Set includes the essentials for any kitchen, allowing you to tackle a wide range of cutting tasks with ease.
Fast and Free Delivery Anywhere in the World
Easy Returns and Refunds Within 30 Days
Guarantee the Security of Your Payment
Couteaux de Damas SHAN ZU PRO
Libérez le torero qui sommeille en vous à chaque tranche; audacieux, téméraire et indompté comme une tempête dans le désert.
L'avis de Nos Chefs Pros
Ne nous croyez pas sur parole, lisez ces témoignages!
Rejoignez le club exclusif SHAN ZU!
Japanese steel AUS-10V
The thick and robust blade is made of stainless steel. The steel is extremely hard and makes the blade very sharp.
Great Balance
Ergonomic shape of the bolster for a natural and flexible grip.
Practical Perfect Gift
🎁 This is a great gift. Come and please your loved ones with a wonderful surprise!
What are the shipping costs?
Free standard delivery on all orders. SHAN ZU kitchen knife on sale worldwide.
*The following regions are excluded: United Kingdom, Ireland, Australia, Canada, Africa, Middle East.
Can items be delivered to my address?
SHAN ZU kitchen knife on sale worldwide.
*The following regions are excluded: United Kingdom, Ireland, Australia, Canada, Africa, Middle East.
When will my order be delivered?
Delivery time depends on the destination. In general, it takes between 3 and 14 days. International shipping is possible to most countries. If we cannot deliver to your country, we will contact you. In addition, we will notify you of your order by sending you an "order confirmation" and a "shipping notification" after you have placed your order.
Returns are accepted for 30 days from the delivery date, in accordance with our refund policy. Just send us an email and we'll tell you what to do.

SHANZU official email: shanzu@shanzuchef.com
What is the best way to clean and maintain my SHAN ZU knife?
To clean and maintain your knife, it is best to follow these steps: First, clean the blade with warm water and dish soap. Be sure to rinse and dry the blade well to prevent it from rusting. Next, use a sharpening steel to sharpen the blade.

Next, use a sharpening steel to sharpen the blade. This will maintain the sharpness and ensure that the knife is in good working order.

If the blade is very dirty or if food has stuck to it, you can use a bristle brush soft to clean it delicately. After cleaning and sharpening the blade, apply a thin layer of oil to the blade and handle. After cleaning and sharpening the blade, apply a thin layer of oil to the blade and handle, in order to prevent rust and keep the knife in good condition. Finally, store the knife in a safe and dry place, away from heat and humidity. Finally, store the knife in a safe, dry place, away from heat and humidity. A knife block or knife drawer organizer is a good option, as it will protect the blade and prevent accidents.
How to sharpen a SHAN ZU knife?
To sharpen a knife, you will need a SHANZU sharpening stone or a knife sharpener. To use a sharpening stone, first soak the stone in water for about 10 minutes. Next, lay the knife flat on the stone and tilt the blade so that it forms a 10 to 15 degree angle with the stone. Using long, even strokes, move the blade across the stone in a back-and-forth motion, making sure to maintain the angle of the blade. After a few strokes, move the blade to the other side of the stone and repeat the process. You must sharpen the blade along its entire length and may need to repeat the process several times to achieve the desired sharpness level.
What is the difference between Damascus steel and German steel?
What is Damascus steel?
The origin of the name "Damascus steel" is controversial: two Islamic scholars, Al-Kindi and Al- Biruni (c. 800-873 CE), both wrote about swords and sword steels based on appearance, the geographic location of where they were produced or forged, or the name of the black-smith. Both authors also mention the terms "damscene" or "damascus" when describing the swords to some extent.
Based on these references, there are three possible sources where the term "comes from." Damascus" in the context of steel:
Al-Kindi refers to swords forged in Damascus in Siberia as "Damascene", but it is important to note that these swords are not described as having a wavy appearance on the surface of the steel.Al-Biruni refers to a swordsmith called Damascus who made crucible steel swords.In Arabic, the word "damascus" means "watered", and Damascus blades are often described as having a water pattern on their surface.
The most common explanation is that the steel is named after the capital of Syria, Damascus, the largest of the ancient cities Levant. The most common explanation is that the steel is named after the capital of Syria, Damascus, the largest city in the ancient Levant. These may be swords made or sold directly in Damascus, or simply the appearance of the typical patterns, in comparison with damask fabrics, which also bear the name Damascus.
Qu Is German steel?
German knives are usually made of stainless steel, which has a Rockwell rating between 56 and 58. Stainless steel contains chromium. This is what lowers the Rockwell index. The advantage is that the knife blade is resistant to corrosion and rust.
Cooks generally agree that German-style stainless steel knife blades are stronger than German-style stainless steel blades. Japanese type. Cooks generally agree that German-style stainless steel knife blades are stronger than Japanese-style blades. Its durability allows you to use it for more cutting and chopping tasks.
The softer characteristic of steel still allows for a sharp edge, but stainless steel will require you to sharpen and trim it more often. The softer steel also makes the blade easier to sharpen, although a stainless steel blade means that a German knife will lose its edge more quickly than its Japanese counterpart, which is made of high-carbon steel.
Problème dans la commande
J'ai reçu la commande rapidement. Heureusement que j'ai vérifié les couteaux avant de les offrir pour les fêtes car j'ai commandé un set de couteau 7 PCS Damas et il n'y a pas un seul motif sur les lames comme le précise le site. J'espère sincèrement que l'erreur va être corrigé rapidement !
Reçus couteaux en temps et en heure. Je n'ai pas regardé les aspects des couteaux car c'était pour offrir.
Donc pour l'instant pas d'avis car pas utilisé.
Ausgezeichnet
Sowohl Preis als auch die Ware und schnelle Auslieferung war top. Weiter zu empfehlen
MfG
Erdös
Très beaux couteaux mais....
Reçu l'ensemble de couteaux série pro. Bon emballage, protection individuelle correcte pour les couteaux. La finition et l'aspect sont bons mais je trouve que l'affutage est perfectible. Dissymétrie entre les deux faces de l'aiguisage. Petite déception sur le couteau utilitaire dont le fil de la lame est légèrement abimé à deux endroits. Dommage pour de si beaux couteaux qui malgré tout coupent très très bien et sont agréables en main. Je ne regrette pas mon achat mais j'aurais aimé une qualité s'approchant plus de la perfection.
Chère cliente,
Nous vous remercions d'avoir choisi notre set de couteaux de la série pro et de nous avoir fait part de votre opinion. Nous sommes ravis d'apprendre que vous avez apprécié l'emballage et la protection individuelle des couteaux, ainsi que leur aspect général.
Cependant, nous sommes désolés d'apprendre que vous avez remarqué une asymétrie entre les deux surfaces d'aiguisage des couteaux. Nous accordons une grande importance à la qualité et à la précision de nos produits, et nous sommes déçus d'apprendre que l'aiguisage n'a pas été à la hauteur de vos attentes.
Nous sommes également désolés d'apprendre que le tranchant de la lame du couteau utilitaire est légèrement endommagé à deux endroits. Nous nous excusons sincèrement pour ce désagrément. La satisfaction de nos clients est notre priorité absolue et nous souhaitons résoudre ce problème pour vous.
Nous vous prions d'agréer,
L'équipe du service clientèle
Reçu dans les temps
Colis reçu a la date prévue sans encombres, c'est pour offrir donc j n'est pas d'avis concernant les produits :)