---the pleasure of cooking that are fully part of French culture
Intro:
When visiting France, Lyon is definitely worth staying for a weekend or even longer to enjoy and discover the authentic French lifestyle.Lyon is the third largest city in France, located in the southeast, known as the French capital of gastronomy. Lyon is the culinary capital of France and boasts plenty of local specialties.There are plenty of unique Lyon dishes that every visitor just has to taste, such as La quenelle, based on flour or wheat flour mixed with eggs;Needless to say, it's the city that every foodie should pay pilgrimage to.
In France, the pleasure of cooking goes hand in hand with the pleasure of sitting at the table, with family or friends, for good times that are fully part of French culture. The overall ambiance at the table is an essential factor.Setting the table and preparing the meal constitutes an important part of the "art of living" in France.France is a country known for etiquette, respectful and polite people have been proud of the French tradition.Especially they take their food very seriously, so it's no surprise they have specific customs around eating and cooking.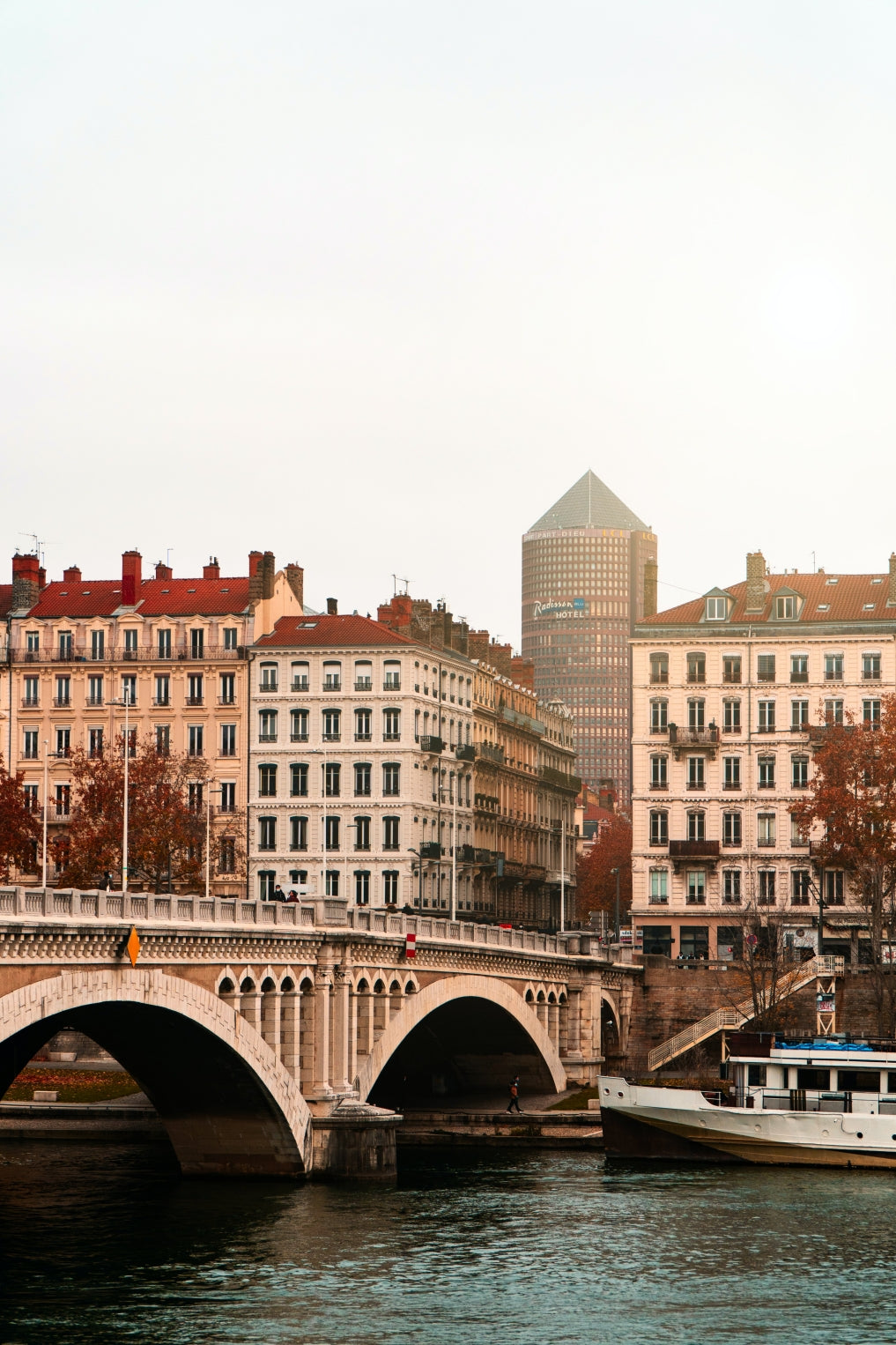 Depending on the guests or the season, we all want to bring a personal touch to the table or to use everyday tableware and kitchen utensils. There are the BEST 5 cutlery stores that each of them has its own distinctive characteristic: luxury and well-known brands, or antique dealers.There are a wide range of kitchen utensils, kitchen knives, cutlery, household items, cooking tools – all make great souvenirs to take home or as great gifts to your foodie friends or family. Check out the list of the best cutlery stores to shop in Lyon.
If you are planning a culinary tourism to Germany, or to other cities in France to explore some cutlery stores to find some amazing and professional local kitchen knives, there are numerous options out there.Fortunately, these helpful guides are here to suggest you locate the top local knife stores.So get ready to whet your appetite as we delve into the following:
content List
1.Robert David cutlery
Intro:
Thiers, a brief history.
Thiers, world cutlery-making capital, is located in the Puy-de-Dôme department, in Auvergne, at the heart of France. Speaking of France, the most often mentioned are these famous names such as Paris, Nice, Marseille or Bordeaux.Thiers is often overshadowed by their international fame.Yet this place is the 'homeland' of cutlery manufacturing. It occupies a prominent place in the heart of the greatest starred chefs, for this town is synonymous with cutlery manufacturing.All kinds of kitchen knives and common pocket knives made in Thiers, which are the highly popular 'Made in France' know-how.
Store information:
(1) Address:17 Rue Ferrandière, 69002 Lyon, France
(2)Open hours:
Monday Closed
Tuesday 10AM-7PM
Wednesday 10AM-7PM
Thursday 10AM-7PM
Friday 10AM-7PM
Saturday 10AM-7PM
Sunday Closed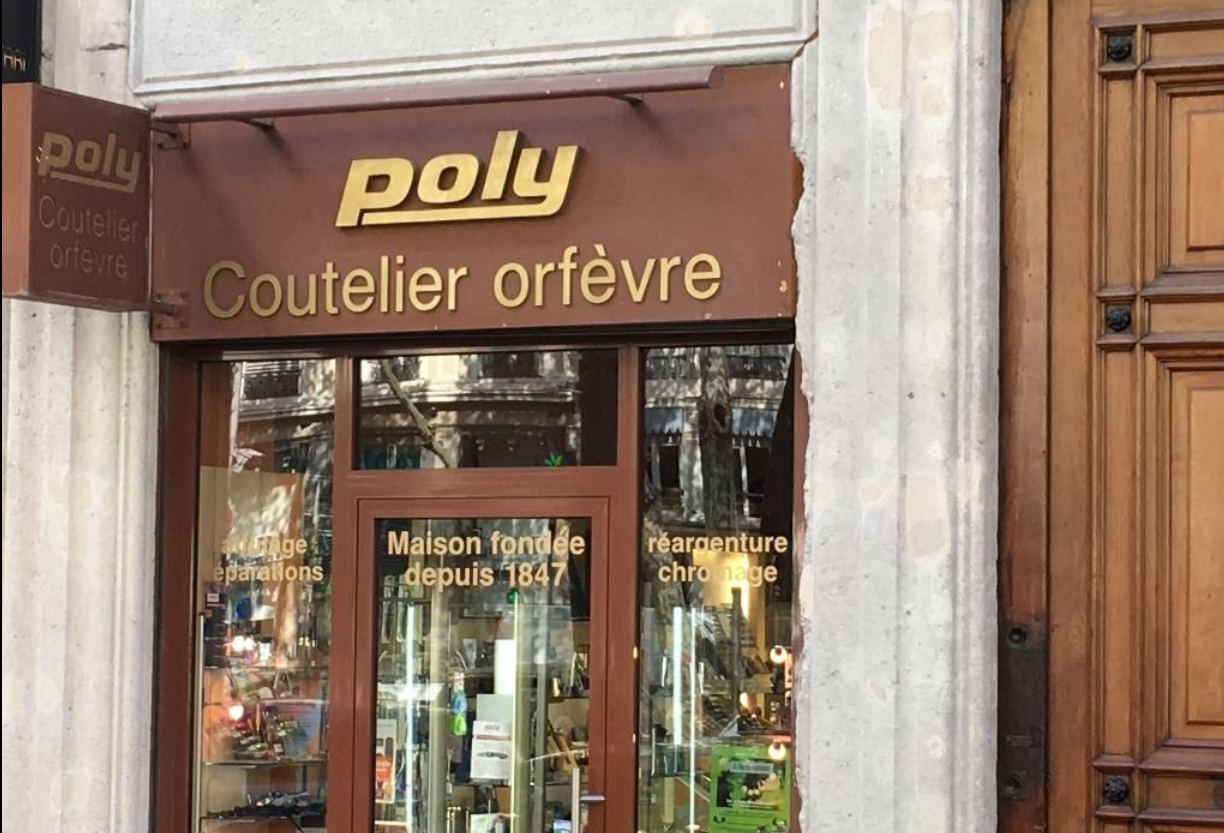 (3)Web:http://www.robert-david.com/
(4) Phone:+33427786584
Customer Review:
One reviewer Says:"For a weekend we went to Lyon with friends and visited the Robert David cutlery. Our welcome was warm and fun. We were able to observe their living works of history, see an ancestral know-how and an obvious love for cutlery. I recommend knife fans to come and visit this place and why not participate in a workshop to make your own knife, customizable to your tastes."
One reviewer Says: "Super welcoming, very professional and extremely kind. Good advice and the ability to customize the knife. I recommend!"
One reviewer Says:"Nice shop, friendly welcome, well finished knives."
2.Poly Cutler Goldsmith
Intro:
Seventh generation of the Poly-Guêpe family, Poly Coutelier Orfevre welcomes you since 1847 in two boutiques in Lyon, one in the 6th district and the other in the 9th. You will find products such as the Thiers, all kinds of kitchen knives, kitchen utensils,shaving brushes,etc.
Store information:
(1)Address: 22 Gd Rue de Vaise, 69009 Lyon, France
(2)Open hours:
Monday Closed
Tuesday 10AM-7PM
Wednesday - Sunday 10AM-1PM
2PM-7PM
>
(3)Web:http://polycoutelier.boutiquesolo.com/
(4)Phone:+33478422870
Customer Review:
One reviewer Says: "Competence and kindness. I strongly recommend this store where you can find happiness and top advice. Well done!"
One reviewer Says: "Poly: competence and passion"
One reviewer Says:"top welcome and advice! Thank you so much!"
3.OCD - Culinary Obsessive Disorder
Intro:
TOC is the specialist and reference for kitchen utensils and equipment.
In stores in the heart of town or on the web, find all the utensils and products you need to enjoy cooking.TOC is for all those who are obsessed with cooking and who are looking for pleasure and enjoyment.From the beginner who is just starting out to the experienced chef in search of perfection, everyone will find something to suit their taste in TOC's wide and demanding selection: equipment from the professional world or from the home kitchen.
There is something for everyone.TOC offers, in its points of sale and on its website, more than 3000 references selected from the best brands in the sector. TOC guides and advises you to equip yourself according to your needs and desires.TOC offers a wide range of kitchen utensils to satisfy your culinary passions like a pro!
Store information:
(1) Address:8 Rue Ferrandière, 69002 Lyon, France
(2)Open hours:
Monday Closed
Tuesday - Saturday 10AM-1:30PM
2:30PM-7PM
Sunday Closed
(3)Web:https://www.toc.fr/?utm_source=gmb&utm_medium=organic
(4)Phone:+33478039712
Customer Review:
One reviewer Says:"La Bovida is celebrating its 100th anniversary this year and is getting a facelift. A renovated store, a new brand dedicated to individuals and still the same team to advise you for 10 years. a successful transformation for this essential store for the "crazy" kitchen"
One reviewer Says:"Store in the heart of Lyon, small, charming with an assortment and a plethoric choice The owners and sellers are very caring for your needs, your expectations and give you the efficient implementation for products, robots, culinary design A wealth of ideas to impress your guests, furnish your kitchen or make your table or aperitif dinette a place of excellence."
One reviewer Says:"Superb experience, exceptional equipment, with a very wide choice. The welcome is very professional, a fine connoisseur, full of good advice."
4.HENRY HOUSE
Intro:
The Maison Henry concept store, unique in Lyon, is located at 18 rue de Brest, on the peninsula in the heart of the city. It is entirely dedicated to the kitchen and to durable and quality home goods. Since the end of 2020, our concept-store offers the people of Lyon and all those who visit our historic capital of gastronomy, a wide selection of culinary items made from noble, sustainable and toxic-free materials. From tableware to cooking utensils.Maison Henry gathers handmade items for you, with full of passion.Today, Maison Henry is the alliance of all these names of the French know-how of excellence of the kitchen and the house.
Store information:
(1)Address: 18 Rue de Brest, 69002 Lyon, France
(2)Open hours:
Monday - Saturday 10AM-7PM
Sunday Closed
(3)Web:https://www.maisonhenry-lyon.com/
(4)Phone:+33478373343
Customer Review:
One reviewer Says:"Wonderful shop that aroused our curiosity. Looking for plates for a few weeks, here we are advised by a very professional saleswoman with very good taste. Each element of the shop is chosen by the team which creates a very cozy atmosphere. The brand's only point of sale, we can say that it has understood everything by betting on 100% French!"
One reviewer Says: "Very nice and very relevant selection of kitchen objects and tableware. Very pleasant visit, in a zen atmosphere. Helpful advice, very friendly welcome. I place this store in my references!"
One reviewer Says:"Wonderful store both in terms of products and service! Passionate, knowledgeable and welcoming staff. Products chosen with care and of very good taste."
5.Boys in the Kitchen
Intro:
Les Garçons en Cuisine is a houseware shop in Lyon. Les Garçons en Cuisine works with the most prestigious national and international brands such as DeBuyer, Cristel, Staub, Chroma, Rousselon-Sabatier, Emile Henry, BigGreenEgg.Les Garçons en Cuisine offers a wide range of kitchen knives,kitchen utensils,cookwares,baking utensils,kitchen equipment,etc.At Les Garçons en Cuisine, programmed sustainability makes sense. Convinced by the need to consume better, Les Garçons en Cuisine selects and tests all products with the declared will to share the values.
Store information:
(1)Address: 23 B Rue Paul Chenavard, 69001 Lyon, France
(2)Open hours:
Monday - Saturday 10AM-7:30PM
Sunday Closed
(3)Web:https://www.lesgarconsencuisine.fr/
(4)Phone:+33478283537
Customer Review:
One reviewer Says:"THE best kitchen supplies store. Whether for small utensils or for the rolls of the plunger blender or others, they will always be very good advice. They take the time to listen to you and explain to you. Welcome in the image of the store, that is to say magnificent! I recommend with eyes closed!"
One reviewer Says:"The best kitchen equipment and utensils store in Lyon! The team is welcoming and has a perfect command of its subject. Their knife department is superb and thanks to Alexandre's precise advice, I was able to find what I needed to maintain my kitchen knives."
One reviewer Says:"A warm welcome from Alexandre (a real TOP CHEF), real professional advice on my needs. Only quality material. Looking forward to showcasing culinary talents. I highly recommend and eyes closed. As soon as I pass through Lyon, I will not fail to come and have a little coffee"