--- The best knives stores dedicated to the art of cutlery
Intro:
 Marseille is a city that has its own unique culture and offers a vibrant and diverse heritage, which is glory in its differences from the rest of France.It's a port city on the margins both geographically and culturally, its inhabitants composed of plenty of migrants who arrived over two-and-half-millennia of recorded history, making it not just France's oldest city but its most multicultural one as well.Marseille's fascination with its historical and dynamic art and design centers, that has attract an ever-growing number of visitors.
In Marseille, most of are migrants, more than anywhere else in France, combine the energy of the new chefs with passion, creativity and knowledge that injects new blood into its culinary culture.Today, Marseille has recently become one of the top gourmet destinations in France.Migrant and migrant-fusion recipes can be found all across Marseille.It's undoubtedly renowned for its earthy seafood-based cooking, notably bouillabaisse.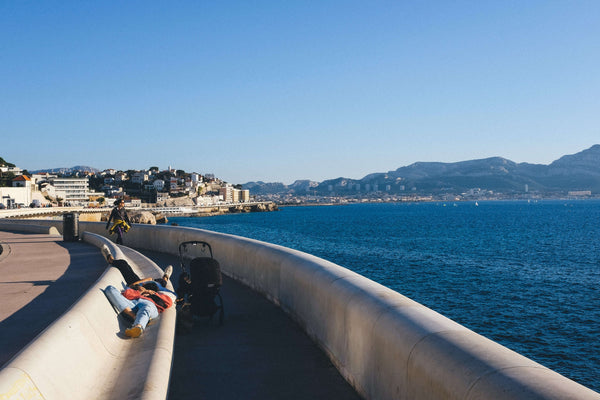 When it comes to entertaining and conviviality, setting the table constitutes an important part of the "art of living." in France. At the table, a large majority of the French find that the overall ambiance is an essential factor.The importance of choosing appropriate wines, appetizers and pre-dinner drinks, of course, the appropriate " kitchen knives" remains firmly rooted in the French way of life.The wide range of kitchen utensils and professional kitchen knives can satisfy the culinary passions to have a well organized kitchen and provides a more engaging experience.The attractive cutlery definitely makes a beautiful kitchen décor.
In France, cutlery is an industrial craft that has developed around regional know-how. With workshops, factories that are sometimes ancient, knife making still relies on a local expertise that has sometimes lasted for several centuries.This is why, when you enter a random knife store in Marseille, you enter a store dedicated to the art of cutlery, in particular to the traditional French knife.These knives stores are full of surprise,alongside a wide range of kitchen items, cutlery, household items, cooking tools.You will find Santoku knives,Chef's knives,Nakiri knives,paring knives,Damascus knives,etc,as well as the kitchen knife accessories,like different types of whestone and honing steel to upgrade your kitchen. We've compiled a list of the best cutlery stores in this coastal French city, so you can start planning your shopping sprees.
If you are planning a trip to in Germany, or a trip to other cities in France to find some local tops knives stores, you may be interested in reading these articles.
content List
1.Lodi Cutlery
Intro:
The Coutellerie de Lodi is one of the oldest shops in Marseille. Located at 5 rue de Lodi, in the Notre-Dame-du-Mont district, and founded in 1896, the Coutellerie de Lodi has been working for 120 years to provide you with the best knives and to restore them, when necessary.when you enter the Coutellerie de Lodi, you are entering a store dedicated to the art of cutlery, in particular the traditional French knife, with a special focus on the Thiers.La Coutellerie de Lodi offers you kitchen knives from the most famous brands. Whether you are a gourmet cook, a collector or a professional, you will find the knife you are looking for among our very wide range.Also offers you table knives for everyday meals, festive meals with sumptuously laid tables, or even for good food during your restaurant outings.
Store information:
(1) Address: 5 Rue de Lodi, 13006 Marseille, France
(2)Open hours:
Monday Closed
Tuesday 9AM-7PM
Wednesday 9AM-7PM
Thursday 9AM-7PM
Friday 9AM-7PM
Saturday 9AM-7PM
Sunday Closed
(3)Web:http://www.coutellerie-marseille.com/
(4) Phone:+33491941192
Customer Review:
One reviewer Says:"Beautiful shop. It's not every day you find a shop which has been doing the same thing for over 100 years but these guys have. And a wonderful selection of traditional knives."
One reviewer Says:"The owner was really nice and patient with my French. He helped me choose a knife at the right price, and in addition, he gave me complementary accessories to equip the kitchen. In addition, the space is calm and beautiful. Worth a visit!"
One reviewer Says: "Excellent cutler. I had the tip of my knife repaired, a real professional job. More good and friendly welcome."
2.Emperor House
Intro:
Founded in 1827 by François Empereur, the Maison Empereur may not be the oldest store in the city, but it is still the France's oldest quincaillerie, or hardware store, is still family-run today, with seventh-generation successor Laurence Renaux -Guez helming the business.Inside, in the 1,000 square meters of the establishment, tens of thousands of references are available.
The place is full of surprises, alongside kitchen items, cutlery, household items, cooking tools,DIY,home textiles, old toys, candles,or gardening items that can be found in the store, there are much rarer and even completely unusual items. You can find everything for your House and for every budget.
Store information:
(1)Address: 4 Rue des Récolettes, 13001 Marseille, France
(2)Open hours:
Monday 10AM-7PM
Tuesday 10AM-7PM
Wednesday 10AM-7PM
Thursday 10AM-7PM
Friday 10AM-7PM
Saturday 10AM-7PM
Sunday Closed
(3)Web:http://www.empereur.fr/
(4)Phone:+33491540229
Customer Review:
One reviewer Says:"This place is surreal it has a vast display of authentic home items. Excellent selection of Marseille soaps and much more."
One reviewer Says:"If you're looking for any manner of home goods, this place is bound to have it. From bakeware, to cutlery, to soap, to paint, to hardware, to glassware, to cleaning supplies.this list goes on. I find it is also a wonderful place for finding practical and reasonably priced souvenirs."
One reviewer Says: "Fantastic place, oldest and best hardware shop in France without a doubt. A real gem. Looks like a museum also with tools, fabrics, real Marseille's soap section, cutlery, glassware, cast iron pans etc. and old toys which bring back memories to the over 40's! Very large choice of . everything and endless store (4 different parts)."
3.Belle de Mai cutlery
Okeechobee Steakhouse was founded as Okeechobee Drive-In in 1947 by the Lewis family.Featuring flawlessly executed recipes and impeccable presentation, their made-to-order menu is inspired by old-fashioned flavors and culinary traditions. Their hand-cut steaks and seafood dishes are always served with fresh seasonal produce, just like in the good old days.
Intro:
Coutellerie de la Belle de Mai offers you the table knives, the kitchen knives, as well as the folding knives available for sale. Coutellerie de la Belle de Mai can also make fixed knives (or folding knives from existing models - choice of handle materials only for folding knives) to measure, blade and handle restoration, sharpening.
Store information:
(1) Address:Bd Allemand, 13003 Marseille, France
(2)Open hours:
Monday 9AM-7PM
Tuesday 9AM-7PM
Wednesday 9AM-7PM
Thursday 9AM-7PM
Friday 9AM-7PM
Saturday 9AM-7PM
Sunday Closed
(3)Web:http://www.coutelleriedelabelledemai.fr/
(4)Phone:+33616796443
Customer Review:
One reviewer Says:"Excellent purchase of very beautiful knives I highly recommend this site that I strongly recommend to my friends."
One reviewer Says:"Manufacture of high quality artisanal knives and creation on demand. Very happy with my order."
One reviewer Says:"100% craftsmanship, high quality work and a big plus for customizing knives on demand!!! Thanks!"
4.basket cutlery
Intro:
La cutlery du Panier is above all a wonderful craftsman who will seduce you with his art and his erudition. The knives are unique, superb and the choice is consistent. And you also have the possibility of asking this passionate person to draw and make the knife of your dreams!
La Coutellerie du basket offers you a professional range includes folding knives, fixed knives, Damascus knives, kitchen knives. La Coutellerie du basket offers a wide choice of Carbon Steel, Stainless Steel, Niolox, San Mai and Damascus as well as many different materials for the handles. A creativity without limits that gives pride of place to noble materials: steel, stainless steel, olive wood, exotic woods, horns or stone."Present since 2015, I have as a profession, my passion the Cutlery.
Every day, I invent, I create, I shape wood and steel for my pleasure and I hope yours. My knives surely have defects because they are not assembled in factories at the end of the world. But they have a soul."--said by the Jean-Pierre Ambrosino, artisan blacksmith and talented cutler, the founder of La coutellerie du Panier.
Store information:
(1)Address: 22 Rue du Panier, 13002 Marseille, France
(2)Open hours:
Monday 10AM-5PM
Tuesday 10AM-5PM
Wednesday 10AM-5PM
Thursday 10AM-5PM
Friday 10AM-5PM
Saturday 10AM-6PM
Sunday 10AM-3PM
(3)Web:http://www.coutelleriedupanier.com/
(4) Phone:+33484263570
Customer Review:
One reviewer Says:"We had an amazing experience here. The owners were very sweet despite our limited French and helped us choose the perfect chef knife for my husband. If you find yourself in this corner of Marseille, take a peek to see the hard work of knife making and perhaps buy something that will certainly last many years if not a life time."
One reviewer Says:"Super pleasant welcome and high quality knives, absolutely unique in terms of blade size, shape, materials chosen for the handles. You can come with your materials to make your sleeves. Prices completely justified given the quality of their productions. I highly recommend!!"
One reviewer Says:"High quality knives with a good grip for the two models that I was offered, the cutting edge is remarkable and it stays sharp for a very long time. I'm a cook and I use it almost every day. The price is totally justified. I love it!"
5.OCD - Culinary Obsessive Disorder
Intro:
TOC is the specialist and reference for kitchen utensils and equipment. In stores in the heart of town or on the web, find all the utensils and products you need to enjoy cooking.TOC is for all those who are obsessed with cooking and who are looking for pleasure and enjoyment.From the beginner who is just starting out to the experienced chef in search of perfection, everyone will find something to suit their taste in TOC's wide and demanding selection: equipment from the professional world or from the home kitchen. There is something for everyone.TOC offers, in its points of sale and on its website, more than 3000 references selected from the best brands in the sector. TOC guides and advises you to equip yourself according to your needs and desires.TOC offers a wide range of kitchen utensils to satisfy your culinary passions like a pro!
Store information:
(1)Address: 10 Rue Haxo, 13001 Marseille, France
(2)Open hours:
Monday 2AM-7PM
Tuesday 10AM-7PM
Wednesday 10AM-7PM
Thursday 10AM-1PM 2PM-7PM
Friday 10AM-7PM
Saturday 10AM-7PM
Sunday Closed
(3)Web:https://www.toc.fr/?utm_source=gmb&utm_medium=organic
(4)Phone:+33491338377
Customer Review:
One reviewer Says:"Store extremely stocked with high quality products for the kitchen, very friendly saleswoman providing good advice. Great!"
One reviewer Says: "Very nice place to find kitchen equipment. Nice seller who was able to guide me in the shop."
One reviewer Says:"Many choices, very practical kitchen utensils. Employee who gives you very good advice. Recommended!"