Authoritative Guide---To Explore The Best Kitchen-Themed Gifts Of Toulouse.
Intro:
It is the fourth-largest city in France, with a large population within its municipal boundaries, after Paris, Marseille and Lyon, ahead of Nice.The city's unique architecture made of delightful pinkish terracotta bricks has earned Toulouse the nickname La Ville rose or "The Pink City".Toulouse is a major industrial city, also is one of the most pleasant cities in France and has a relaxed vibe.Toulouse is filled with colorful buildings, rich architectural heritage ranging from large Romanesque and Gothic churches to neoclassical facades, and vibrant nightlife.
When it comes to culinary culture, France is the perfect destination for foodies and Toulous is most certainly no exception to this.There are plenty of unique Toulouse gastronomic delights that every visitor just has to taste, such as paté or confit de canard, it can be found in restaurants throughout Toulouse all year round; cassoulet, this slow-cooked Toulouse traditional food contains white beans, vegetables , herbs and a range of meats, etc.Needless to say, visitors should be sure to try the hearty specialties, and also save room for dessert.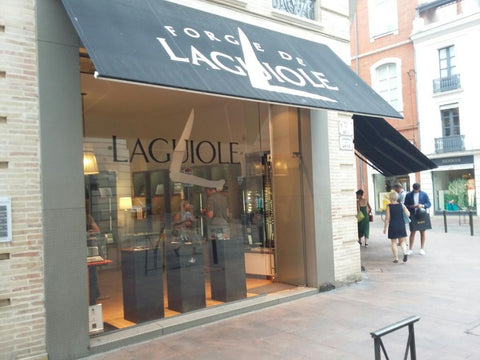 There are the BEST 5 cutlery stores that each of them has its own distinctive characteristic in Toulous.Whether you're looking for the best knife stores to buy a new kitchen knife or you're looking for a particular type of knife, you'll be able to find what you're looking for in one of the many great shops in Toulous .There are a wide range of kitchen utensils, kitchen knives, cutlery, household items, cooking tools – all make great souvenirs to take home or as great gifts to your foodie friends or family. Check out the list of the best kitchen knife stores to shop in Toulouse.
If you are planning a culinary tourism to Germany, or to other cities in France to explore some local traditional cutlery stores, there are numerous options out there.Fortunately, these helpful guides are here to suggest you locate the top local kitchen knife stores.So get ready to whet your appetite as we delve into the following:
content List
1.Laguiole shop Toulouse
Intro:
Thiers, a brief history.
Each Forge de Laguiole® knife is manufactured in the factory in the village of Laguiole in Aubrac – France.Forge de Laguiole® Manufactory is located on a plateau at a height of 1100 meters in the core of the village of Laguiole.Its landscape impresses by its fantastic beauty and its singular tranquillity. The village of Laguiole and its special energy, inspires our Master-Knifesmiths day after day.You will find products such as folding knives,table knives,sommelier knives,other knives and kitchen accessories,etc.
Store information:
(1) Address:24 Rue des Arts, 31000 Toulouse, France
(2)Open hours:
Monday 11AM-7PM
Tuesday 10AM-7PM
Wednesday 10AM-7PM
Thursday 10AM-7PM
Friday 10AM-7PM
Saturday 10AM-7PM
Sunday Closed
(3)
Laguiole shop Toulouse Details
(4) Phone:+33561235137
Customer Review:
One reviewer Says:"Pretty shop in the city center district where all the beautiful brands are grouped. Valuable advice is brought to you with professionalism in your choice and purchase. The 2 very pleasant young women are up to guide you without making a mistake."
One reviewer Says:"Excellent welcome, smiling available and professional. I recommend this store because the manager listens to the customer and gave us excellent advice."
One reviewer Says:"Lots of small, medium, large knives can have a name engraved on it to make a gift, on a mini penknife."
2.Habiague
Intro:
Habiague store offers professional quality kitchen utensils, kitchenware and accessories, pastry, small appliances, cutlery in Toulouse since 1864.
Store information:
(1) Address: 44 Rue d'Alsace Lorraine, 31000 Toulouse, France
(2)Open hours:
Monday 10AM-1PM 2PM-7PM
Tuesday 10AM-1PM 2PM-7PM
Wednesday 10AM-1PM 2PM-7PM
Thursday 10AM-1PM 2PM-7PM
Friday 10AM-1PM 2PM-7PM
Saturday 10AM-1PM 2PM-7PM
Sunday Closed
(3)
Habiague Details
(4)Phone:+33561215661
Customer Review:
One reviewer Says: "Good selection of cooking stuff and good service!"
One reviewer Says:"Welcoming and extremely qualified staff, high quality advice, wide selection of varied accessories, easily accessible store."
One reviewer Says:"A must-see store in Toulouse. All the products are of high quality, a lot of choice, I still have knives that I bought there 20 years ago."
3.OCD - Culinary Obsessive Disorder
Intro:
TOC is the specialist and reference for kitchen utensils and equipment.
In stores in the heart of town or on the web, find all the utensils and products you need to enjoy cooking.TOC is for all those who are obsessed with cooking and who are looking for pleasure and enjoyment.From the beginner who is just starting out to the experienced chef in search of perfection, everyone will find something to suit their taste in TOC's wide and demanding selection: equipment from the professional world or from the home kitchen.
There is something for everyone.TOC offers, in its points of sale and on its website, more than 3000 references selected from the best brands in the sector. TOC guides and advises you to equip yourself according to your needs and desires.TOC offers a wide range of kitchen utensils to satisfy your culinary passions like a pro!
Store information:
(1) Address:21 Pl. Victor Hugo, 31000 Toulouse, France
(2)Open hours:
Monday 2PM-7PM
Tuesday 10PM-7PM
Wednesday 10PM-7PM
Thursday 10PM-7PM
Friday 10PM-7PM
Saturday 9:30PM-7PM
Sunday Closed
(3)
OCD - Obsessive Culinary Disorder Details
(4)Phone:+33531981342
Customer Review:
One reviewer Says:"Large selection of brand name products. I was well informed and I found what I was looking for."
One reviewer Says:"Top store! I recommend without hesitation! Exceptional team very rare in Toulouse."
One reviewer Says:"Top store for professional and amateur, I was very well received by the store manager Best address of Toulouse, if you need professional kitchen stuff you must go to this place"
4.DEGRENNE store
Intro:
Your DEGRENNE store in Toulouse advises you in the purchase of your tableware and table decoration. Discover our chic and timeless collections for all occasions.DEGRENNE chooses the finest materials for the manufacture of its products: the highest quality stainless steel for its cutlery, high quality crystal for its glasses and the finest porcelain for its plates.
DEGRENNE Toulouse store, the specialist in tableware in Toulouse. Discover the most beautiful collections of plates, glassware and kitchen accessories.DEGRENNE celebrates its industrial heritage and the know-how of its men and women who work like artists with the two materials at the heart of the brand's DNA: stainless steel and porcelain.
Store information:
(1)Address: 8 Rue de la Trinité, 31000 Toulouse, France
(2)Open hours:
Monday Closed
Tuesday 10AM-1PM 2PM-7PM
Wednesday 10AM-1PM 2PM-7PM
Thursday 10AM-1PM 2PM-7PM
Friday 10AM-1PM
Saturday 10AM-1PM 2PM-7PM
Sunday Closed
(3)
DEGRENNE Store Details
(4)Phone:+33561329914
Customer Review:
One reviewer Says:"Welcoming very warm and professional staff very good product quality is not given but we really have quality !!!! And a big thank you to these two sellers who were great with me!"
One reviewer Says:"A nice business, with high quality products. The price obviously is accordingly, but it is a place where you can find beautiful christening sets, porcelain dishes for weddings, young couples etc."
One reviewer Says:"Friendly welcome in this shop. The manager provides good advice. She knew how to be patient despite all our hesitations and questions. We do not regret our purchase. I advise
5.Auchan Toulouse
Intro:
Auchanis a French multinational retail group headquartered in Croix, France.Among our sales universes: Household appliances sale, furniture, mattress and bedding sale, household linen sale, bed linen sale, telephone, computer and high-tech sale, smartphone and telephone sale, wine and champagne sale, kitchen sale, etc.
Store information:
(1) Address: 2 Chem. de Gabardie, 31200 Toulouse, France
(2)Open hours:
Monday 8:30AM-9:30PM
Tuesday 8:30AM-9:30PM
Wednesday 8:30AM-9:30PM
Thursday 8:30AM-9:30PM
Friday 8:30AM-9:30PM
Saturday 8:30AM-9:30PM
Sunday 8:30AM-12:30PM
(4)Phone:0561267300
Customer Review:
One reviewer Says:"It's one of those half a mile long hypermarket with every commodity under the Sun. Extremely conveniently located right outside the metro station, though on the outskirts of the city. From groceries to clothing to electrical stuff - all price ranges are available."
One reviewer Says:"You can buy everything at a single point. Prices are very reasonable."
One reviewer Says:"One of the largest supermarket in Toulouse."