Hamburg, city and Land (state), located on the Elbe River in ​​northern Germany. It is the country's largest port and commercial center.
Shipping and trade have been Hamburg's lifeblood for centuries. Not unexpectedly, its harbor has remained the megacity's most important feature.Whether you are into high fashion or vintage chic, Hamburg is a megacity for shopping. There are a variety of shops and malls to choose from, and you can find almost anything you need. The best shops in Hamburg are located in the city center, and they offer a wide range of products and services.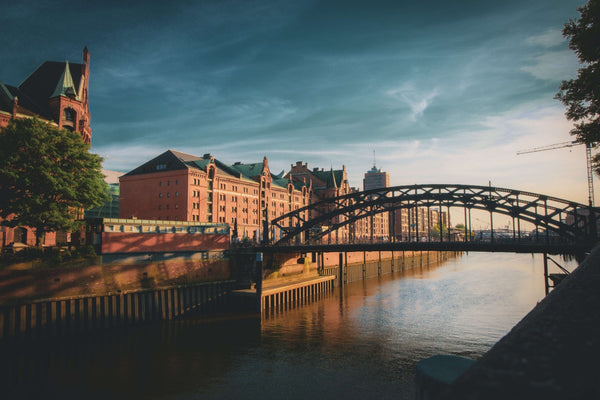 Stroll around Hamburg's many markets, you will find some unique and well-equipped kitchen knife shops.These shops have everything you need to equip your kitchen, including the best knives around, like Damascus knife--Damascus knives can give off a mystique from its own elegant pattern, toughness, and durability. The damascus pattern is believed at the forefront in the world.These places are a professional chef's and home cook's haven with a huge amount of kitchen knife series as well as other cookwares.
Browse through our local recommendations below and combine your personal shopping list. A unique and applied chef knife for the loved ones back home? Or an authentic piece of Hamburg's everyday life? You'll find it all at these shops.
Since its founding in 1853, WMF has produced high-quality cookware and household goods. From knives to pressure cookers.This is a great all-around knife shop with a good selection of kitchen knives, Damascus knives, as well as other kitchen tools. It's a great place to shop if you're not sure what you're looking for.
Monday-Saturday 10AM-8PM
Sunday     Closed
Reviewer From Google Maps
One reviewer Says:"WMF, a German brand that produces and sells quality kitchenware and small home appliances."
One reviewer Says:"There is always something to buy. Very good selection. We bought children's cutlery for our children and the expected grandchild. As always, there was good advice on this. We love going here."
One reviewer Says:"Great goods / selection! Warm employees.
This shop have selected all of household goods and kitchen appliances for you and put them together in a unique and sophisticated range.From current trends and new products to well-sorted and traditional kitchen equipment, you will find everything that kitchen lovers, cooking lovers and foodies hearts desire.
Monday    10AM-6PM Tuesday - Friday  10AM-8PM
Saturday   10AM-4PM  Sunday     Closed
Reviewer From Google Maps
One reviewer Says:"Was looking for a knife and must say was in the right shop Top advice."
One reviewer Says:"A well-stocked kitchen -related shop for its size! All kinds of items are offered at good to acceptable prices."
One reviewer Says:"Very nice shop & great service! A large selection of very good quality. I would love to come back!"
3.
Cucinaria Kitchen-Equipment Handels-GmbH
For 25 years they have been offering you a huge range for the kitchen, cooking and coffee culture -and look forward to advising you with their expertise and many years of know-how.You will find everything to do with the topic of kitchen, cooking and coffee culture.This is a large shop with a massive selection of knives, including kitchen knives, Damascus knives, and even some custom and limited edition knives. You will find kitchen gadgets from oyster knives to zester slicers. This is the specialist shop for portafilter machines with their own workshop.
Monday    Closed
Tuesday - Saturday 10AM-7PM
Sunday     Closed
Reviewer From Google Maps
One reviewer Says:"Shop with a lot of great kitchen utensils. There is hardly anything that is not available there (provided it is about kitchen accessories)."
One reviewer Says:"Here you will find high -quality cookware. Whether it's nice knives or real pots."
One reviewer Says:"This specialist shop in Hamburg is without a doubt one of the best things to visit. Very nice and helpful staff, which also has expertise. I will gladly come again."
This company is a traditional company with over 83 years of experience in planning and equipping commercial kitchens and gastronomy. With them you will find a large number of well-known manufacturers of small and large appliances for the catering trade as well as kitchen accessories.
Monday -- Friday 9AM-5PM , Saturday - Sunday Closed
Reviewer From Google Maps
One reviewer Says:"I bought a self- assembled set of kitchen knives here. The selection is great, you can really find everything you need. I was given very good advice and was satisfied overall."
One reviewer Says:"Everything for the kitchen professional ."
One reviewer Says:"Simply TOP the store - no ramblings around the bush - clear statements and advice. He also does a good job of sharpening knives - I'm always happy to help - even with exotic requests."
The Hamburg department store is located in a building that is one of the city's architectural highlights.With the renovation work in the summer of 2013, they expanded their sales area so that they can now offer almost the entire range.Manufactum GmbH is a German retailer with nine full-sized stores in Germany and an online store that serves primarily Germany, Austria, Switzerland, and the UK.
Monday  - Saturday   10AM-7PM    Sunday     Closed
Reviewer From Google Maps
One reviewer Says:"Unbelievably good quality products. You get what you pay for and it will last you a lifetime. Always new and interesting products to go with the old fashioned and traditional products from all over Europe and the UK. Worthwhile just to walk through and enjoy the displays."
One reviewer Says:"One of my favorite shops in Hamburg. Yes, it's expensive, but you can feel the quality, investment and creativity in every corner. As someone else has written here, they have so many things you never realized you needed in your life!"
One reviewer Says:"Very inspirational warehouse with a lot of amazingly well designed products. If you're a design lover you will loose hours walking around in here. They have clothes, kitchen appliances, toys, tools, soaps and everything in between."