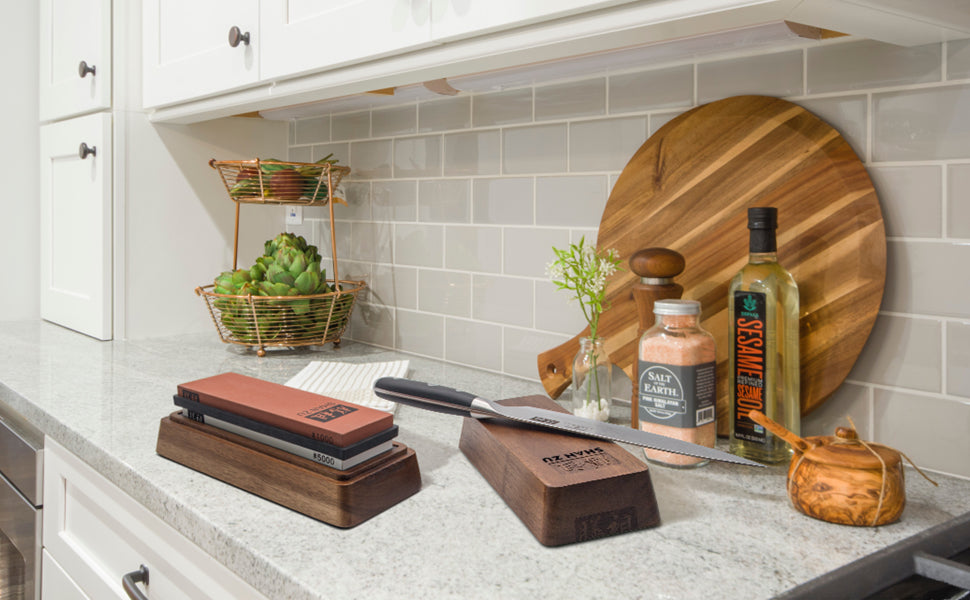 Best Knife Sharpener 2021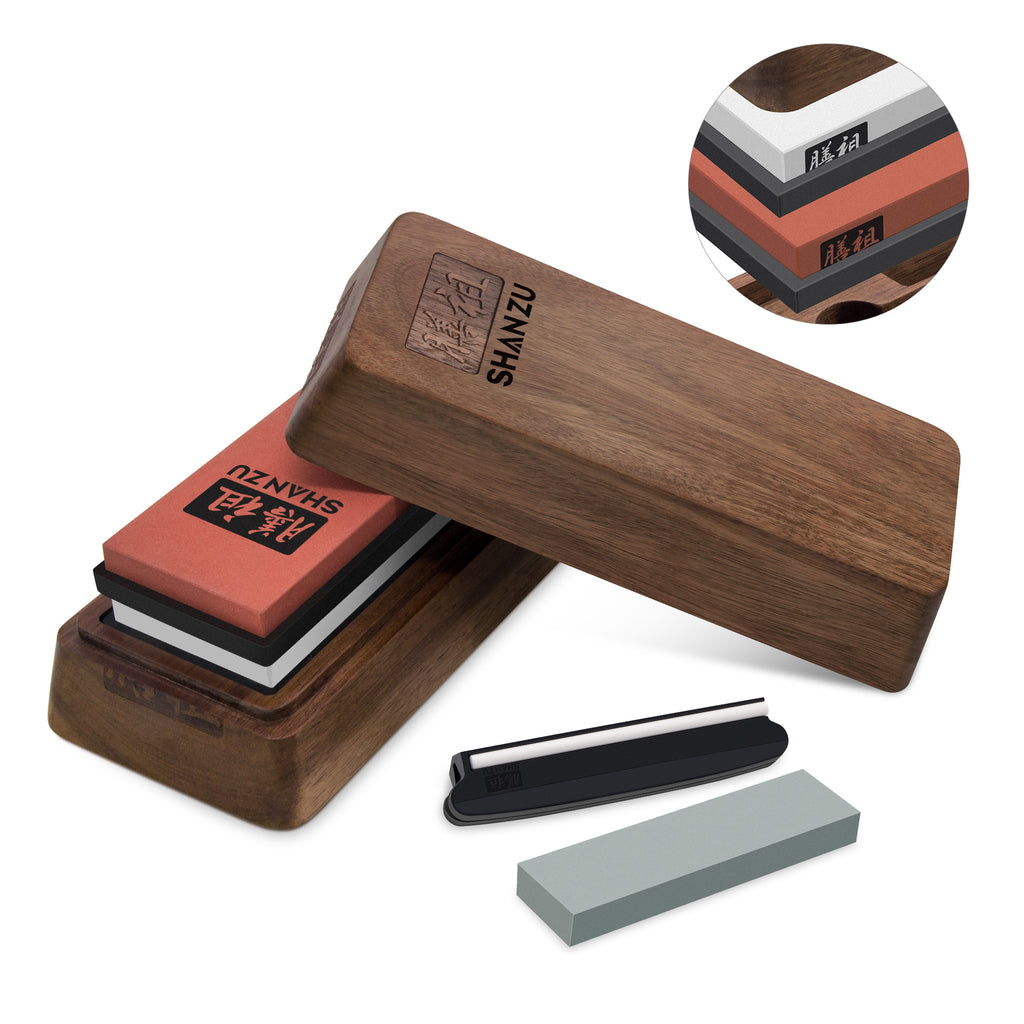 SHANZU 2PCS Premium 1000 and 5000 Grit
When was the last time you sharpened your kitchen knife? If the answer is "gee, I really can't remember, it was so long ago," your reputation as a chef might be in danger. As we all know, knife sharpening is an essential part of the cooking process. The difference between a sharp chef's knife and a dull one can turn the relatively easy task of chopping vegetables or meat into a full-blown nightmare — complete with a trip to the ER if you're not careful.
Whether you're a home cook or a professional chef, sharpening your knives every couple of months can help reduce accidents and optimize your entire preparation process. If well done, it can also help extend your knives' lifespan considerably. Owning a good knife sharpener should be a must for anyone who takes pride in knowing their way around the kitchen.
But which one is the most appropriate for you? When it comes to knife sharpening, all the options available in the market may seem a little overwhelming. That's why we prepared this useful, detailed guide to help you find the best knife sharpener to bring those dull blades back to life.Let's get to it!
What You'll Learn
1. What Is The Best Knife Sharpener On The Market?
As you might've guessed, the answer to this question will depend on your needs, level of expertise, and personal preference. Another thing to consider is the type of knife you'll need to sharpen (chef's knife, paring knife, steak knife, etc.) and the amount of time you're willing to invest in it. That being said, the world of knife sharpeners is a fascinating one and we can't wait to get you started on the topic.
Here are some of the most popular sharpening options:
WHETSTONES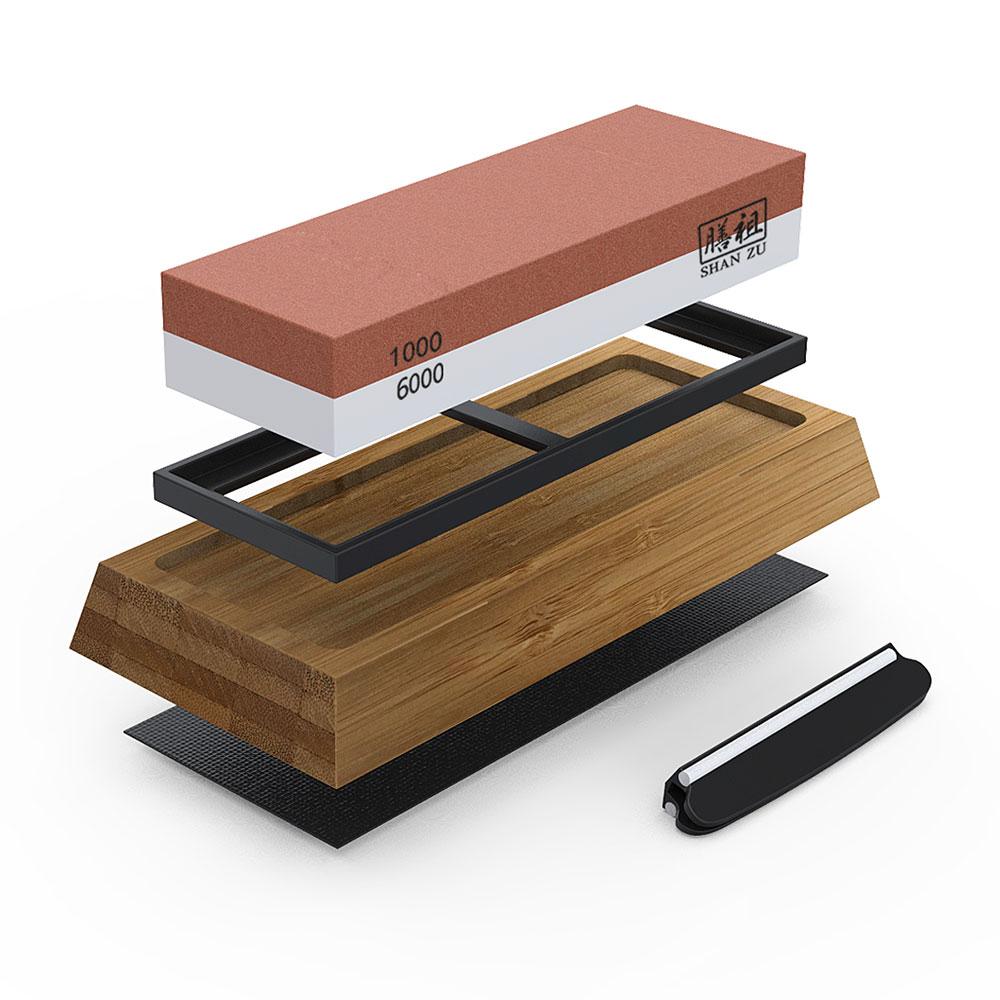 SHAN ZU Whetstone 1000/6000 Grit
Yes, using a sharpening stone or whetstone might be a bit more time-consuming than the other options (the whole process can take between 20 to 40 minutes). But, they offer way more versatility, allowing you to hone and sharpen the blades of your knives at any angle you desire. This is especially convenient if you own a varied collection of knives, ranging from the Western to the Japanese style.
It might take you some time to properly master the sharpening stone but your chef's knife will end up with razor-sharp blades and the process is surely a rewarding one. Besides sharpening your knife blade, whetstones are also excellent at repairing and bringing that old knife back from the dead. And what's more, you can also use them to sharpen other objects like gardening tools and scissors.
In order to achieve optimal sharpening results and, therefore, a sharp knife, you'll need either a multi-sided sharpening stone or at least a sharpening kit with two or three stones with varying levels of coarseness (this is usually referred to as 'grit').
Pros
It looks really cool

Versatile

Some whetstones can last a lifetime

Whetstones often prolong a knife's life more than electric sharpeners
They are used for both Western and Asian styled knives.
Cons
Steep learning curve

You need to be precise. How you angle your blade will determine the grind
SHANZU Whetstone Options:
Low-Grit Stones:
A low-grit stone contains two different sides and has as its grit number, under 1000. The two sides both have a purpose. One side is for honing, and the other side is for helping remove scratches from sharp edges or chips. You can use this stone to sharpen obtuse blades and other tools that have chipped edges. Here are some specific uses of these whetstones.
You can use this stone to sharpen knives that have lost their edges completely
You can restore damaged knives that have chips and nicks
Do not use these stones to do your general sharpening since they will leave a coarse finish .

We recommend the #400/#1000 Grit:
SHANZU Premium Whetstone Kit (#400/#1000 Grit) -Handcrafted set of top-grade corundum whetstones.
Medium-grit Stones:
The grit number of a medium-grit stone is usually between 1000 and 3000. These whetstones are ideal for general or regular sharpening as well as honing for straightening obtuse angle. Compared to the low-grit stone, the medium-grit stone will give you better results in sharpening your knives. Here are some uses of your medium-grit stone
You can use the whetstone for restoring damaged knives and regular sharpening
You should use the medium-grit stone moderately to prevent your edges from becoming thin.
With medium-grit stone, your knife edges become finer than when sharpened with low-grit stones

We recommend the following 3 kinds:
SHANZU Premium Whetstone Kit (#1000/#6000 Grit)

-Shanzu Top seller
High-Grit Stones:
High-grit stones have grit numbers of between 4000 and 8000. It is also called a finishing stone. These stones are suitable for sharpening knives that you use to slice meat and vegetables with. Such knives ought to be very sharp for easier and finer cutting. Here is more about high-grit stones.
High-grit stone is ideal for polishing and refining. If you want your blade to restore its shine, you should polish it with this stone.
These whetstones are finely abrasive, strong, and very hard. These features allow for detailed finishing.
In between your sharpening routines, you can polish your knife using this stone to preserve your blade.
This whetstone is especially good for sharpening western knives.
We recommend the #3000/#8000 Grit:
SHANZU

Premium Whetstone Kit

(#3000/#8000 Grit)-

#3000 grit stone is your all-purpose stone to sharpen dull or damaged blades , and a #8000 to return that mirror polish and screamingly sharp edge to your blade.
If you need low-Grit Stones and 
Medium-grit Stones at the same time, We recommend the following set:
SHAN ZU Professional knife sharpener 400/1000/6000 grinding stone
HONING STEEL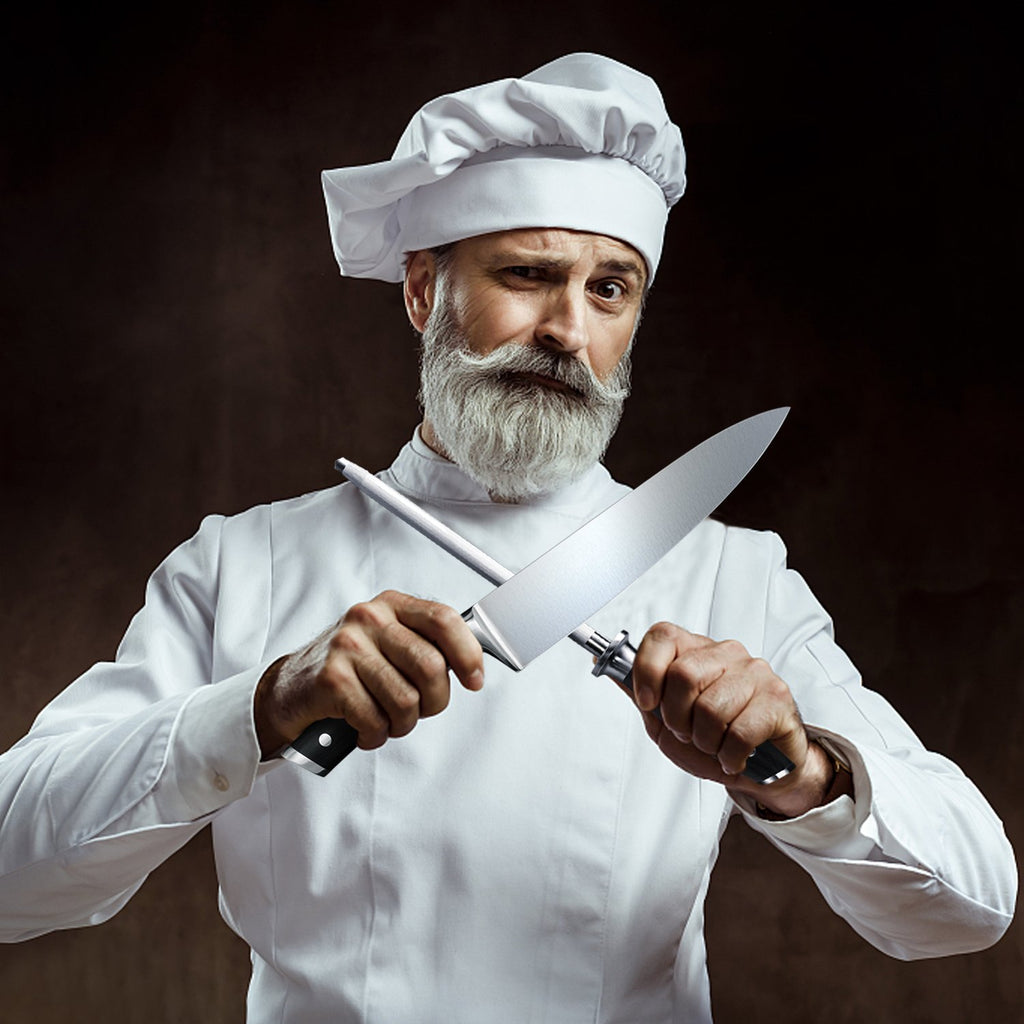 SHAN ZU Professional Knife Sharpening Rod
Also known as "sharpening steel," the honing steel, or honing rod, is actually more of a compliment to your sharpening method of choice than an actual knife sharpener.
Even though it helps the blade retain its sharp edge in between intensive sharpening sessions, it won't help you repair dull blades. It generally consists of a honing rod that can be made of metal, diamond carbon steel, or ceramic. Using a honing rod also requires a bit of finesse that can be acquired after some practice.
Pros
Using it often means you'll have to sharpen less frequently

Inexpensive
Cons
Takes some time to acquire the proper sharpening technique

You need to learn the various angles required to improve your specific blade before you get to work with your honing rod
SHANZU Honing Steel Options:
SHAN ZU Professional Knife Sharpening Rod - Precision forged, ultra sharp, wear-resistant, single-piece, high carbon German steel at 55 Rockwell
Leather sharpening strop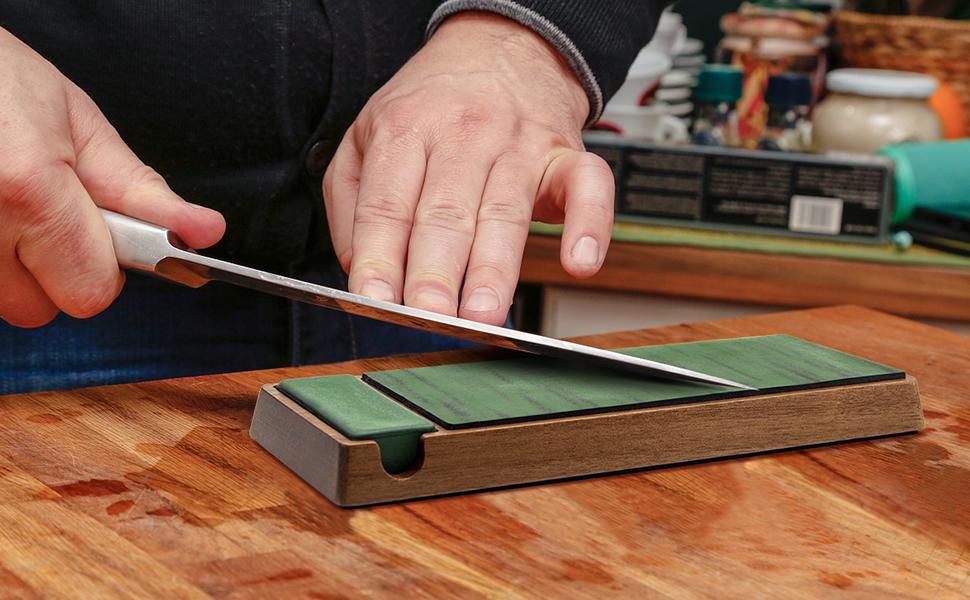 SHANZU leather sharpening strop kit
Leather sharpening strop uses premium quality genuine cow hide leather; Acacia base has Non Slip rubber base; Green Polishing compound(chrome oxide and alumina) works with so many materials as Aluminum, Stainless, Steel, Brass, Wood, Cast-iron, Copper & Much. Ideal choice for many professionals like Chefs & Woodcarvers to keep their tools razor sharp.
Pros
Suitable for high-end knives
Less damage to the knives
Cons
Not as easy to use as a MANUAL KNIFE SHARPENER
SHANZU leather sharpening strop Options:
2. What Do Professional Knife Sharpeners Use?
While most home cooks prefer electric and manual sharpeners, whetstones and leather sharpening strop are usually the go-to method for professional chefs and knife connoisseurs in general. They not only last a lot longer but they're also way more effective than any other knife sharpening system out there.
Waterstones, or whetstones, can be used for both Western, Japanese, and pretty much any type of blade. The process is very straightforward - soak the stone between 5 and 10 minutes and then run the knife against it - but mastering the angle is key here. There are many YouTube tutorials available.
Pull-through sharpeners are a whole different beast. Oriented towards amateur cooks, these manual devices often feature a D-shaped handle and multiple V-shaped channels or grooves that you can swipe the knife against in order to progressively sharpen, hone, and refine the blade of your knife. You might want to avoid this sharpening method if you own a Japanese knife (too delicate) but it's totally suitable for the sturdy construction of German and French-style knives.
Similar to the manual sharpeners, an electric knife sharpener uses a motorized sharpening system that chips away the metal from the knife's blade through a series of wheels or discs in a very convenient and time-efficient manner. While these may save you some time and effort, the prefixed angle settings make it an overall less versatile tool. Handle these with care - if used too often, they might alter the original design of your knife.
And, of course, let's not forget about the honing rod. Whether you're a seasoned pro or just a padawan taking your first steps in the culinary world, the honing steel should always be a key part of your knife maintenance routine. As it is known, frequent honing can help enhance your knife's performance and reduce the time in between sharpening sessions.
3.How Do I Choose  A Knife Sharpener?
Not all knives are created equal and the same could be said about knife sharpeners. Even though all knife sharpening techniques follow the same principle - using an abrasive edge to remove metal from the blade - each knife has its own idiosyncrasy and unique features, and that's something to take into account when choosing a sharpening method.
Like we've mentioned before, a whetstone is the most all-around sharpening solution available. They will work on almost any type of blade and, despite being known for being difficult to master, learning how to use one will bestow a zen aura upon you and will help you forge your path towards knife sharpening enlightenment. Additionally, while not ideal, a whetstone can also be used as a makeshift ceramic knife sharpener - ceramic knives are extremely brittle, though, and sharpening them can be quite the headache.
If you're too busy to become a waterstone master, the obvious choice is the electric knife sharpener. Yes, you might have to spend a little more on one of these bad boys but, in the end, you won't regret it. Currently, most sharpening products available on the market work well with both Japanese and Western-style knives, and some of them will even sharpen a serrated blade.
The outdoorsy types might want to go for a handheld sharpener, which is way more portable and versatile enough to work with, say, a hunting knife or a pocket knife. Handheld knife sharpeners usually come with a manual grip, making it easier to manipulate and work at any desired angle.
4.When Do You Need To Sharpen Your Knife?
Depending on the use, you should only sharpen your knives at home every few months or so. For top-notch performance, it is also recommended to have your knives professionally sharpened every other year. On top of that, the daily use of a honing rod, or sharpening steel, is great to keep the blade edge of your knife aligned.
What'S The Difference Between Honing And Sharpening?
Basically, honing helps realign the microscopic teeth in the blade, but it won't sharpen your dull knife. Sharpening works by removing a small amount of steel from the blade, creating a new edge. The difference also lies in the frequency - while honing should be performed on a daily basis, you only want to sharpen your knife once every couple of months. They're both really useful methods to keep your knives healthy and in top shape.
5.How to use a whetstone?
It is pretty easy to use a whetstone. You simply move the blade over the stone to remove the steel layer while exposing another. The knife becomes sharper as you expose the thinner layer. You have to apply some effort to sharpen your blades. The softer the stone, the finer the blade becomes. For best results, you should wet your sharpening stone before starting the sharpening process.
You can follow the steps as following video on Youtube: