As we know, Rennes is a famous city in France. It is located in the northwest of Paris. If you have been to Rennes, it is obvious that it is a city full of surprises and classics.

For kitchen knife lovers, Rennes is hard to find kitchenware stores with five-star reviews. Just today you are lucky to see SHAN ZU's recommendations and today we present you these five kitchenware stores in Rennes.
Brittany's fascinating capital, Rennes is home to enough representative houses with wooden structures and cobblestone pavements to make you feel transported back to medieval France.Rennes is a beautiful city in France with a rich history.When it comes to shopping, Rennes has a lot to offer. From foodie heaven to kitchen knife shops, there's something for everyone in this vibrant city.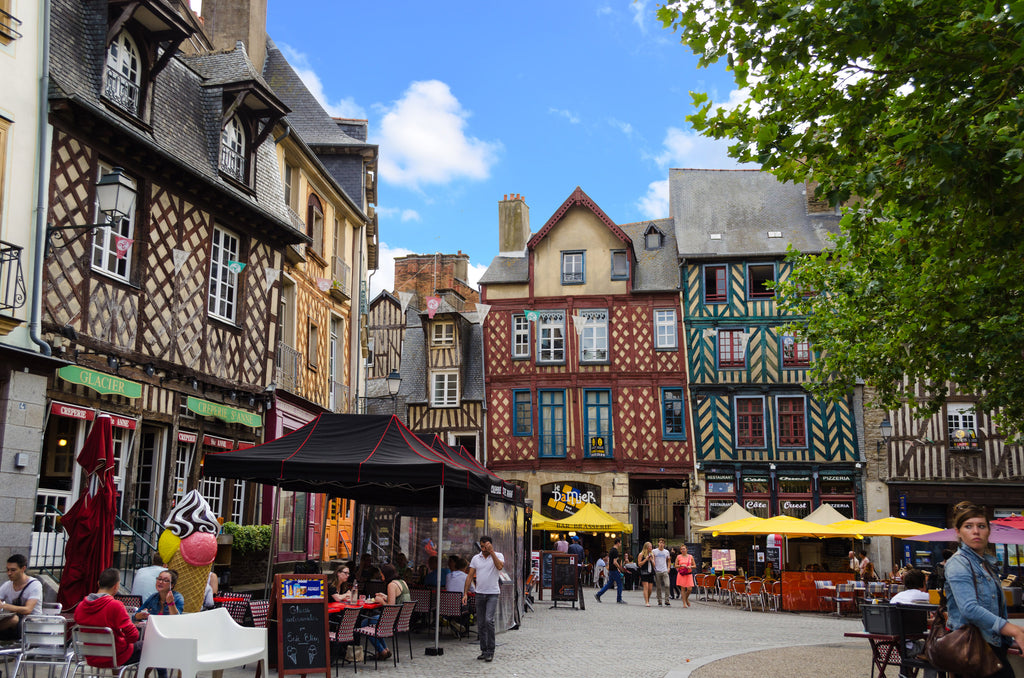 For fashion lovers, Rennes has a number of great shops. There are plenty of independent boutiques selling unique clothes and accessories, as well as some of the more mainstream chain stores.
For the foodies, Rennes is a paradise. There are gourmet shops selling everything from fresh local produce to rare and exotic delicacies. There are also plenty of bakeries and cafes where you can sit and enjoy a delicious treat.
If you're looking for kitchen supplies, Rennes has some great shops. There are specialist stores selling kitchen knives, kitchen accessories and other cooking equipment, as well as more general stores where you can find everything you need for your kitchen, so if you're in the market for a new kitchen knife, be sure to check out the selection here.
Shopping in Rennes is a great experience, so be sure to add it to your itinerary when visiting France.Whatever your style, you're sure to find something to suit you in Rennes.So, whether you're a foodie, a fashionista, or just looking for some new kitchen supplies, Rennes has a shop for you.The city is full of charming shops and restaurants, making it a great place to visit. Come and explore this vibrant city and see what it has to offer.Here are our top picks of the best shops in Rennes.
So it's no surprise that the city is home to some of the best food, state-of-the-art cookware and various types of kitchen knife shops in the world.
If you are planning a trip to Berlin or Hamburg in Germany, a trip to Paris in France, you may be interested in reading these articles.
Happy eating and happy shopping!
1.Culinarion | RENNES
Opened since 2010, your Culinarion store, located in the city center of Rennes, puts itself on the side of the cooks to share with you the accuracy of the tool, the elegance of the gesture, and to celebrate together the return to the authenticity and the home-made. The team welcome you and advise you in the choice of utensils and tools adapted to all desires and talents, from the passionate beginner to the most experienced cook.
Culinarion, it's also Club advantages, gift cards, ideas, tips and especially. secrets to share every day!
Find a selection of products among the best brands of the market: Cristel, De Buyer, Gobel, Magimix, Riviera&Bar, Qwetch, Peugeot, Staub, Zwilling, Myiabi, Arcos, Emile Henry, Chef & Co, Le Creuset, Microplane , Smeg.
Information
8 Rue Jean Jaurès, 35000 Rennes, France
Monday 2PM-7PMTuesday - Saturday 10AM-7PM Sunday Closed
+33299785579
Customer Review:
One reviewer Says:".The store is well stocked. The saleswoman is friendly, good advice and knows her products well. Store to recommend!."
One reviewer Says:"Nice little kitchen shop in Rennes, cozy and welcoming. You will find everything and even really ingenious accessories (someone said wacky?) I was a little afraid when the rates charged in this kind of shops, and yet it was very reasonable for the quality of the equipment. I recommend"
One reviewer Says: "Great selection of good quality items Good welcome"
2.Laguiole cutlery - Paris Ile Saint Louis
DEGRENNE store in Rennes offers you precious advice regarding your tableware and table decoration purchases. Discover our chic and timeless collections for all occasions. At DEGRENNE, we select the finest materials to develop our products: the highest quality stainless steel for our cutlery, the best quality crystal for our glasses and the finest porcelain for our plates.
Come and visit the DEGRENNE store in Rennes, the specialist in the Art of Tableware and discover most beautiful collections of plates, glassware and kitchen accessories.
Information
5 Rue de Bertrand, 35000 Rennes, France
Monday Closed
Tuesday 10:30AM-1PM 2-6:30PM
Wednesday 10:30AM-1PM
Thursday 10:30AM-1PM 2-6:30PM
Friday 10:30AM-1PM 2-6:30PM
Saturday 10:30AM-1PM 2-6:30PM
Sunday Closed
+33299369701
Customer Review:
One reviewer Says:"I was amazed by the warm as well as charming welcome of the 2 young saleswomen, by their enthusiasm, their professionalism, their wise advice and also the consultation by phone. several other stores in the network to meet my request (a range of 2.75 euros!). Lots of beautiful things to discover in this truly unmissable store!"
One reviewer Says:"Very nice shop, I bought my cutlery there which I adore. the sellers are very good advice and absolutely do not force a purchase, the prices are up to the quality of degrenne."
One reviewer Says:"The quality of Degrenne products is widely known, but this quality is further enhanced when the salesperson takes care of the products, knows the history, the manufacturing method, . and accompanies the presentation of an irreproachable customer service. It was worth it for me to push open the door of this store this afternoon. Go there you will be delighted. I recommend without hesitation."
3.3Cora in Rennes City
The brand's stores have been established in their territories for nearly 50 years and have contributed to the development of the region's economy.
Pedestrian drive, services and organic products on site. Order on cora.fr in Rennes more than 30,000 everyday products, at hypermarket prices. You can Pick-up of the order in town.This store also offers a Point Relay service for your packages! Drop off or pick up your parcels, while collecting your drive orders.The kitchen knives here are very complete, with a wide variety of kitchen knives to meet all the needs of cooking.
Information
33 Bd de la Liberté, 35000 Rennes, France
Monday - Saturday 9AM-9PM
Sunday Closed
+33299855151
Customer Review:
One reviewer Says:"mini organic cora with lots of products!!"
One reviewer Says:"The person in charge of sales and reception is absolutely adorable! A great selection of products in the center of town! 100% recommended"
4.ELeclerc RENNES CLEUNAY
One of the biggest Supermarket in Rennes.Nice place to get what you want. Various stores and one-top complete supermarket, which is a self-service shop offering a wide variety products, from the pharmacy to the all kinds of food, beverages to all different types of household products, kitchen cookware, organized into sections. It's totally worth a visit.
Information
Monday - Friday 8:30AM-8:30PM
Saturday 10:30AM-7PM
Sunday Closed
http://www.couteaux-courty.com/
+33223402323
Customer Review:
One reviewer Says:"It's very nice experience for me to get all things from same place. Now, Christmas purchasing is also there in Leclerc"
One reviewer Says: "All in one stop for everything. Pharmacies, chocolate shop, jewelry, coffee. Everything is available and very clean. Well maintained disinfectant dispensers available everywhere."
One reviewer Says:"Might be the largest supermarket in Rennes. Clean and tidy. Could not check it all as it is huge. Enjoyed the bedding section and picked a lovely set. Great bargains and variety. Would definitely return if in Rennes. Highly recommended."
5.Rennes Alma
Designed for amateur cooks as well as for cordon-bleus, DU BRUIT POUR LA CUISINE has become a true reference in cooking. Each store, like DU BRUIT POUR LA CUISINE in Rennes Alma, offers a wide range of quality products from utensils to spices and recipe books divided into different universes.If you want to prepare a meal for two, for five or more, you can find everything you need at DU BRUITDans LA CUISINE in Rennes Alma. Prepare everything thanks to utensils rigorously selected after having found a recipe in one of the books of the bookshop. You will be able to choose the necessary spices in the grocery store and surprise your guests with a beautiful table. From appetizer to dessert, treat yourself.
Information
Monday - Saturday 9:30AM-8PM
Sunday Closed
+33299517575
Customer Review:
One reviewer Says: "Great place, for shopping eating with friends, huge parking lot. Lot of stuff and accessibility is just right."
One reviewer Says:"Biggest shopping center in Rennes, pretty much complete. Nice experience."
One reviewer Says:"Nice place with plenty of stores, big parking lot. You can find many products on discounts, especially during the discounts season."