These places that specialize in cookware and kitchen knives, you will realize it the moment you step onto these amazing shops.
There's no denying that Paris is one of the most popular shopping destination in the world. From high-end designer boutiques to affordable chain stores, the City of Light has it all.
For luxury lovers, head to the legendary fashion streets of Rue du Faubourg Saint-Honoré and Rue Saint-Honoré. Here you'll find some of the most iconic designer stores, like Chanel, Dior, and Hermès.If you're looking for more affordable options, the Marais is the place to be. This trendy neighborhood is full of cool independent boutiques and vintage stores.
It is also a food lover's paradise, with so many the best restaurants in the world. If you're looking for an amazing food experience, you need to go to France.The country is known for its incredible cuisine, and there's no better place to enjoy it than in a restaurant. French cuisine is world-renowned for its exquisite flavors and techniques. From the subtlety of classical French cooking to the more robust dishes of the Provence region, there's something for everyone to enjoy.French food culture is all about enjoying good food with good company, and there are plenty of great restaurants to choose from. Whether you're looking for a Michelin-starred dining experience or a more casual meal, you're sure to find something to suit your taste in France. And of course, no visit to France would be complete without trying at least one of the country's famous wines.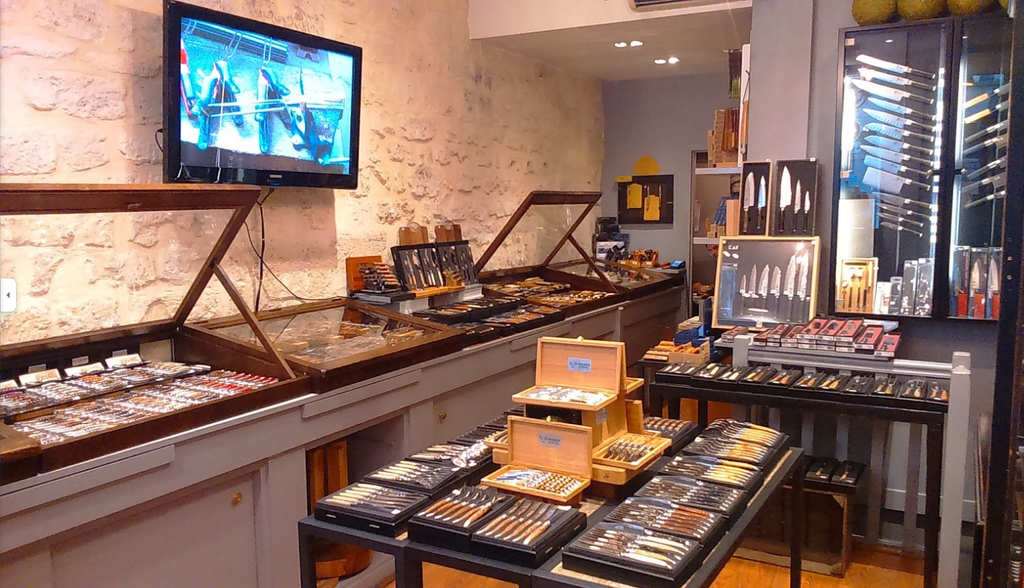 So it's no surprise that the city is home to some of the best food, state-of-the-art cookware and various types of kitchen knife shops in the world.
But with so many options, it can be tough to know where to start your shopping spree. That's why we've put together a list of the best kitchen knife shops in Paris, no matter what your budget may be, you're sure to find the perfect shops for you in Paris.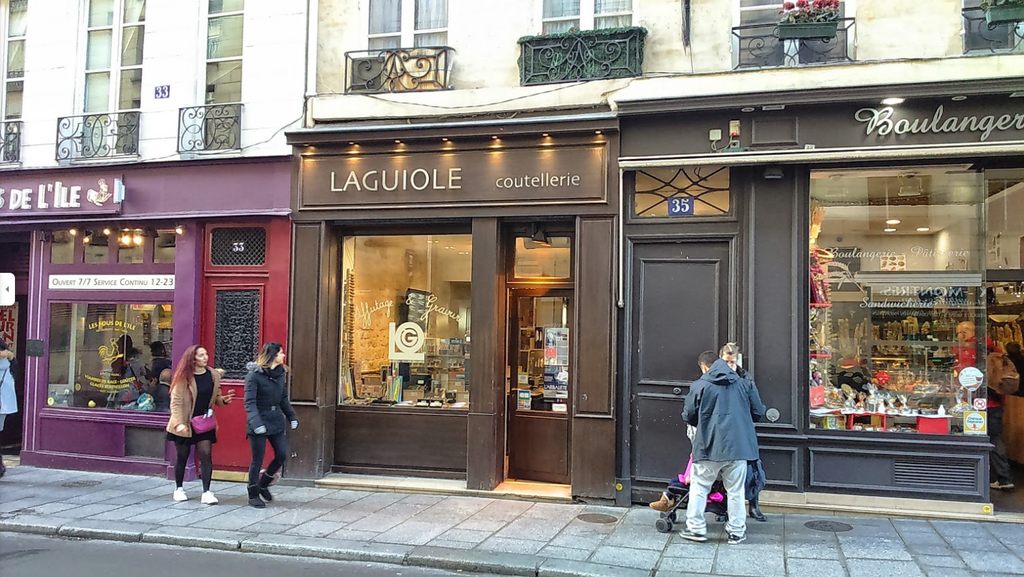 If you are planning a trip to Berlin or Hamburg, you may be interested in reading these two articles.
Happy eating and happy shopping!
1.Laguiole cutlery - Paris Ile Saint Louis
In the heart of Paris, Laguiole en Aubrac welcomes you to its Cutlery on Île Saint Louis.
This shop offers French and international customers a wide choice of Laguiole folding knives, sommeliers, kitchen knives as well as a wide range of table knives and their matching forks and spoons.The handles of our knives are made of natural materials such as: horn tip, buffalo horn, deer antler.Or even rare and precious materials such as molar, tooth or fossilized mammoth ivory.Laguiole en Aubrac also offers you its collection of precious wood handles: olive wood, juniper, ebony, walnut.Damascus carbon, twisted, linear or stainless steel blades.Raw forge blades or simply 12C27 stainless steel.The variations are daring and endless!
Information
35 Rue des Deux Ponts, 75004 Paris, France
Monday - Saturday 10:30AM-7PM Sunday 2-7PM
https://www.laguiole-paris.com/
+33143291057
Customer Review:
One reviewer Says:"What a special place. The proprietor is so well-versed in Laguiole knives, for kitchen and all other uses. He is also very conscientious about whom he sells, and told us the local police check in with him regularly. We have visited this shop the past 3 years (and purchased there) and it is a regular stop for us in Paris. His prices are reasonable, his selection excellent - it's just a fascinating and fun shop."
One reviewer Says: "Great shop keeper. Nice selection of the best Lagioules. I bought a Laguiole corkscrew here that is so beautiful to hold and look at."
One reviewer Says:"A beautiful selection of top quality French knives and wine keys."
2.Laguiole-Renaud cutlery
The former Renaud armory, which has existed since 1910 and is well known in Paris, has renewed its former glory, its 1970s atmosphere and all its charm thanks to the discreet and warm lighting.The cutlery is based on artisanal know-how while maintaining its rustic and comfortable atmosphere. Knives from Laguiole en Aubrac or Thiers took pride of place but not only:There are always dedicated to old and new customers a wide choice for the art of shaving, scissors, kitchen knives.The manicure also has its display, as do very specific multi-function tools such as the Leatherman or Victorinox brand.
Sharpening is also effective thanks to the many specialized craftsmen in France with whom we work and with whom the old scissors, knives, secateurs and other cutting parts will be pampered.
Information
128 Rue de Provence, 75008 Paris, France
Monday - Saturday 10AM-7PM
Sunday Closed
+33143874065
Customer Review:
One reviewer Says:"Staff was very friendly and helpful spent more time talking to them about France and my country Canada. Purchased knife for hunting/keep sake of Paris trip. Only issue i had with store is that their selection is overwhelming, so many knives to choose from. Will definitely go back to buy another knife. Very happy with my choice"
One reviewer Says:"I went there to sharpen 3 pocket knives. One of them, a gift from my father that was more than rust, the tip broken. They did a fabulous job. And they were very pleasant from start to finish."
One reviewer Says:"Magnificent shop for lovers of good knives and knives. In addition, the treatment is excellent."
3.E. DEHILLERIN
Descendant of an old noble family of Vendée, ruined by the French revolution, Eugene de Hillerin took his family name into the world of hardware and trading in Paris. Visionary with a strong character, this great worker laid the first foundations of the brand in the district of Halles where he lived and where he knew everyone.In 1890, the hardware store moved to rue Coquillière and adopted the facade that it still presents today, with its abundance of heterogeneous utensils.
Specialist in the supply and sale of kitchen equipment, the brand's motto is "Modest assistance in the promotion of French cuisine".In fact, all professionals of the food industry, restaurateurs, pastry chefs, pork butchers and caterers have come to find the quality utensils essential to their art there. At Dehillerin, they are even happy to supply them in all manner of sizes.
Information
18-20 Rue Coquillière, 75001 Paris, France
Monday -Saturday 9AM-12:30AM
Sunday Closed
+33142365313
Customer Review:
One reviewer Says: "This is a very, very dangerous place to visit for serious cooks. There is just SO much fabulous stuff in this shop. You go to buy a small knife and leave with bags full of new things you didn't know you needed or that even existed. Some things can seem very expensive, BUT they will be of the highest quality and last forever with some TLC. The staff is extremely knowledgeable and kind (And patient). Leave room in your suitcase!"
One reviewer Says:"We where there a few days ago and purchased a roasting pan, a Mauviel saucepan and some other items. The salesman, Guy, was very helpful and knowledgeable. We would like to thank him for his assistance. This is an incredible store with very knowledgeable professionals. Highly recommended to all foodies!"
One reviewer Says:"The staff is very kind and gives thorough explanation on their products, which they know very well and on which they have professional knowledge. The place itself looks like a museum, 200 years old. You should visit this place if you need to shop for your kitchen but also as a cultural experience."
4.Courty and Son
Founded in 1875, Courty & Fils is one of the oldest boutiques in Paris. We are above all specialized in all types of blades: kitchen knives, for military use, hunting or even collections through a wide range of vintage knives or unique copies made by French cutlers.Borrowing from tradition, the store also gives pride of place to regional particularities and productions.Each person will find their knife at Courty.
Information
Monday -Saturday 9:30AM-6PM
Sunday Closed
http://www.couteaux-courty.com/
+33142965921
Customer Review:
One reviewer Says:"Terrific range of products and polite, superb service. Wonderful range of corkscrews, beautifully made out of top rate materials. If you love Damascus, exotic woods and mammoth ivory you will be in heaven."
One reviewer Says:"Awesome little knife store located not to far from the Opera stop. I was surprised to find many Microtech and Benchmade knives, as well as many damascus versions of production models. I would recommend checking out the shop if you are in the area."
One reviewer Says:"First rate establishment! I have bought a knife from them on every trip to Paris I have made. Excellent inventory and customer service!"
5.KAMA-ASA
The majority of knives made in Japan are the result of a long work. Conscientiously made one by one by craftsmen, the knives you will find at KAMA-ASA will be your kitchen partners for many years.Cooking utensils: Iron pans, knives, hand hammered pans, cast iron products.The products you will find at KAMA-ASA are not products chosen for their ease of use, but rather products recommended and used for a long time by kitchen professionals.In order to be used in the kitchen, utensils must be resistant and, due to their characteristics, allow the preparation of tasty cuisine.
Information
12 Rue Jacob, 75006 Paris, France
Monday - Saturday 11AM-7PM
Sunday Closed
http://www.kama-asa.co.jp/fr/
+33175429109
Customer Review:
One reviewer Says:"Amazing shop, people are passionate and so helpful. They like to transmit their knowledge of the product they sell and even more. They give great advice and will tell you if something is not suitable for your use. I've bought a knife and some accessories. Overall it was a great experience and I am more than satisfied with the product I've bought."
One reviewer Says:"Brilliant knives. We'd bought a chef's knike from the Tokyo store and regretted not buying more at the time! The Paris shop is smaller but just as professional and friendly. We had excellent service and advice, couldn't be more helpful! Highly recommended."
One reviewer Says:"The shop is full of charm with a wide selection of knives. I came for a gift and knowing nothing about the Japanese knife I was wonderfully welcomed and advised by the seller. I was given all the details with great kindness, without pushing for sales and respecting my budget. I recommend 1000%"