When it comes to finding the one-of-a-kind Father's Day gift, it can be tough to know where to start and find the RIGHT gift for him. Even though you know him very well, but at some point, it's inevitable to get stuck in deciding what to get.Unswervingly every time you press for clues and, chances are, your dad insists that he already owns everything and he wants nothing special----"Oh, I don't need anything."Sometimes you buy something you're sure will delight and surprise him,but it doesn't. You definitely don't expect to deliver something unique that eventually end up to collect dust in basement somewhere.
There's something to be said for taking usefulness and practicality into consideration while you're planning gifts for a man. Normally, dads are more practical when they open a gift, focusing on its usefulness and long-term desirability.Yet the useful gifts don't have to be boring either--despite what you might think! Your best bet is to find the right mix of practicality and thoughtfulness which will help him upgrade his already tried-and-true favorites in daily life.
If your dad is a bit of a foodie who loves to eat, drink or cook(or all three), then he's sure to appreciate unwrapping a kitchenware-themed gift.You know men can have a great diversity of interests, but the outdoors and food have always been a common theme for the men.Maybe he already started making everyone's favorite dish in the kitchen or firing up the grill in the yard.Or perhaps he loves the bar section in the house and loves to host parties and entertain.There are plenty of great gift options out there for Father's Day.These gifts are stylish and fun, but most of all, they come in handy.They are not only useful, but quite functional, practical and also show dad you truly thought about his passions and needs this Father's Day.
With Father's Day around the corner on June 19,2022, we've rounded up a whole bunch of gift ideas that hit all of the right notes for every type of foodie dad--from budget-friendly must-have kitchen knife set,kitchen knife accessories, grill master, to the wine/cocktail connoisseur.
Keep reading for 7 great gifts foodie dads will love for Father's Day:
If he shows a love of home cook ing
GYO Series is the strikingly geometric design.It presents a look that is stylish and unique.There is an engraved 御 on the end cap of the GYO Series which means Honor in Japanese.This well-equipped 7-piece Damascus knives set is created to meet the demanding work of a busy kitchen.It has a breathtaking and elegant Damascus Rolling Wave Pattern with a G-10 handle that looks good on your knife set.The thoughtful rotatable block design gives easy access to the knives by just rotating the block.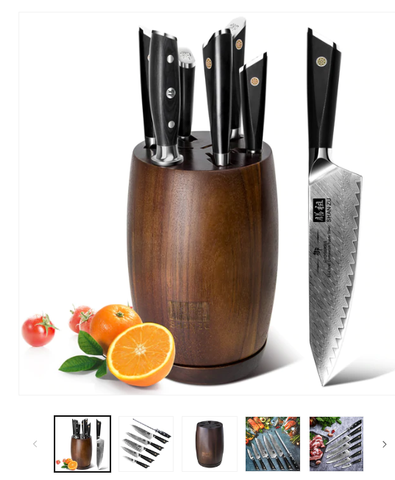 If he pursue efficiency in the kitchen
Don't wait until a knife gets dull before taking care of it.Offering two individual whetstones for precision sharpening. #1000 grit stone is your all-purpose stone to sharpen dull or damaged blades, and #5000 to return that mirror polish and screamingly sharp edge to your blade. The individual whetstone set last much longer than the typical combination set, can sharp ANY BLADE(except ceramic), Kitchen knives, scissors, ax & razor, hunting knife, chisel, garden blades tools and more.Antique Customized Acacia Box:High quality customized acacia wood box to storage and protect the whetstone BPA-free and avoid harmful bacteria 100% organic acacia wood make it durable and easy to clean.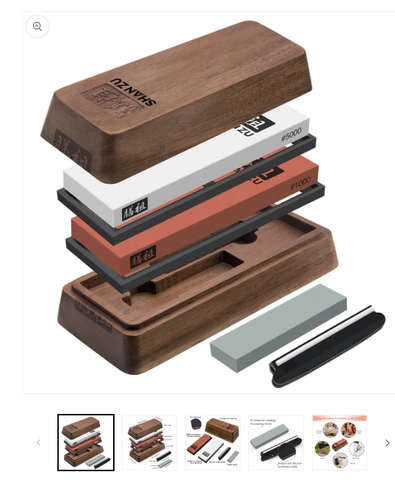 If he enjoys the crispy crunchy food
Prepare your favorite fried foods in the comfort of your own home with the 3.2 Quart Deep Fryer by Chef BuddyT. The Chef BuddyT 3.2 Quart Deep Fryer offers a full range of temperature control and is equipped with an extra large frying basket, perfect for parties and family gatherings. Create delicious fried foods from wings, to onion rings to French fries, quickly and easily with the Chef Buddy 3.2 Quart Deep Fryer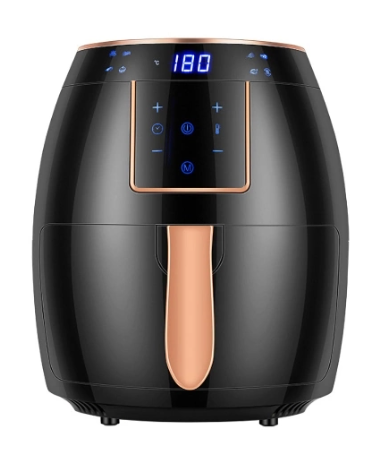 If he's a BBQ grill master
Smart Shape: This portable indoor/outdoor electric BBQ grill is with small size. The household smoke free electric grill can be easy to carry and suitable for family and friends BBQ together.
Design: The portable indoor/outdoor electric BBQ grill can be taken into 4 main parts. It's convenient for cleaning, for repairing and for assembling.(1. Cooking Grid. 2. Heater Pipe and Controller with wire. 3. Oil-receiving tray 4. Base Plate and Floor Mat. )
Material: All the material is safe and healthy for people to use. The cooking grid is chrome-plated, the heater pipe is stainless steel. Sample can be offered for quality test if you need.
Occasions: Ideal for dinner parties, individual meals, barbecue-style food, stir fry. Portable grill is great for traveling, especially for camping and caravanning holidays. It is easy to carry and move anywhere you need it.
Features: Electric barbecue grill with power indicator light.Detachable, adjustable 5-speed temperature control, three height adjustable grill wire-fast grilling, and warming.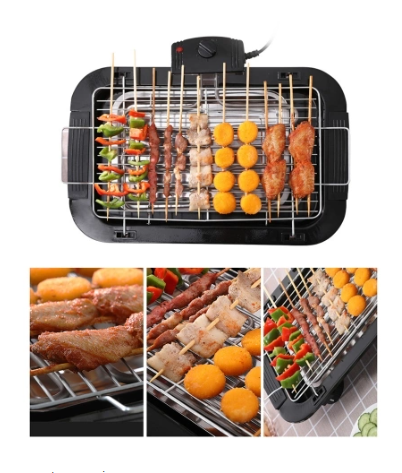 If he's a cocktail connoisseur
This is a set of fine quality cocktail making set, with 16 pcs different tools, all tools are made of stainless steel material, perfect for pro cocktail mixers to use, prevents from absorption and discoloration, with fine durability. A perfect gift for both starter and professional mixers alike, as all essential tools are included. You can have a try.You'll experience the improved taste of tequila, Rum, Vodka, Gin, Whiskey, Bourbon, Cognac, Brandy, Port, Sake, Liqueurs and Mixers like never before!
You can use this cocktail shaker stainless steel set to create variety of various delicious cocktails.A perfect gift for both starter and professional bartender alike, as all essential tools are included.With this cocktail sets will help you to prepare the finest cocktail within the comfort of your home.
If he
 is a real outdoorsy type
The wood-fired pizza oven is a must-have for you to cook in parties, BBQ gatherings or family gatherings. Freestanding design with handle and wheels is easy to move around for both transport and storage, making virtually any location the perfect spot for preparing your favorite meal with smokey flavor.
2-level cooking chamber, domed front-to-back and side-to-side, with wood fueled in second level, eliminates hot spots and ensures uniform heat distribution.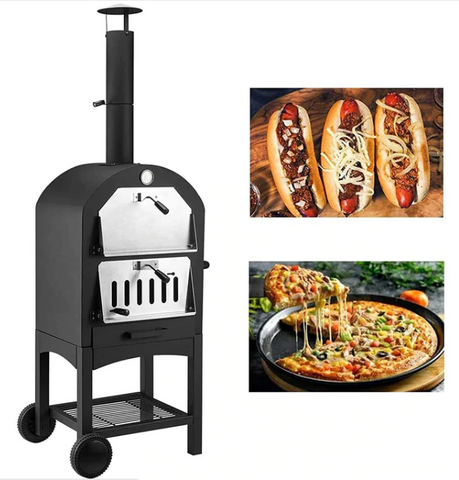 If he 
tries to keep a healthy diet
With the powerful pure copper motor of 2000W, the speed is up to 30,000 RPM, the professional smoothie maker can help you quickly get the deliciousness you need. 8 German stainless steel blades quickly crush, no large lumps of ingredients left.his smoothie blenders offers 8 adjustable speed and 4 preset programs, which can achieve versatile blending features, you can crushing ice, grinding nuts, grains and coffee beans, making smoothies and shakes in a few seconds.
In a word, you still have time to get the perfect gifts for your foodie dad in your life.Whether he's a cook lover, a grill master, or the type of guy who likes to unwind with a drink, get him a gift that helps him feel extra special and enjoy his favorite daily activity even more.After all, that's what Father's Day is all about
Happy cooking, foodie dads.