The dragon fruit has become quite popular in recent years. Although it has a unique look and flavor, its nutritious qualities make it an inviting ingredient in many recipes.
This guide will help you get to know the dragon fruit better. You'll learn how to find the best ones at the store, the steps needed to prepare one for consumption, and fun recipes to try.
You'll also find some knife recommendations that help with the preparation process.
What's a Dragon Fruit?
Dragon fruit is sometimes called a strawberry pear, a pitahaya, or a pitaya. It grows on a cactus called the "Honolulu Queen," which is unique because the flowers are only open at night.
Although dragon fruit is now a global crop, it was originally native to Central America and Mexico. []
Types of Dragon Fruit
You can find two primary types of dragon fruit available in most markets. The most common option has green scales and bright red skin on the outside.
The interior fruit has white pulp and black seeds. Another common type has red pulp and black seeds with the same exterior.
A third option, although less common, has white pulp and black seeds with yellow skin.
How to Pick a Dragon Fruit
The best dragon fruits have brightly colored skin. It should have even tones to it.
You don't want to choose one with a dry and shriveled stem or lots of brown blotches. Those symptoms indicate the fruit is overripe. []
How to Tell if a Dragon Fruit is Ripe
The flesh of a dragon fruit should have a slight give to it when pressed. If it feels firm like an apple, it probably needs to ripen for a few days.
Of the dragon fruit is overripe, you'll have more give to the dragon fruit. It'll feel closer to a ripened avocado at that stage.
What Is the Taste of Dragon Fruit?
The flavor of ripe dragon fruit is comparable to a pear or a kiwi. Since the flesh is firm, you can eat it when ripe without much difficulty. It's somewhat sweet, with the consistency of a watermelon.
All the different types have a similar flavor. It isn't intense, but the fruit makes its presence known when included in various recipes.
Why Is Dragon Fruit So Expensive?
Dragon fruit is an imported product for most consumers. That means the price at the store includes transportation and labor expenses associated with the shipping process. []
It's also an exotic fruit, which creates more demand for it. Since supplies are somewhat limited, the scarcity drives up costs.
After planting the cactus that produces a dragon fruit can take 2.5 years until the first fruit develops. Part of the expense includes the growing costs for farmers.
Since dragon fruit is thought to provide several health benefits, the popularity it receives can create micro-markets where prices climb even higher.
What Is the Nutritional Value of Dragon Fruit?
A typical dragon fruit serving delivers several nutrients, including fiber, magnesium, and iron. The following nutritional facts are based on a standard 100g serving. []
| | |
| --- | --- |
| Calories Per Serving: | 60 |
| Protein Content: | 1.2 grams |
| Fat Content: | 0 grams |
| Carbohydrates: | 13 grams |
| Fiber: | 3 grams |
| Vitamin C: | 3% of RDI |
| Iron: | 4% of RDI |
| Magnesium: | 10% of RDI |
RDI stands for "recommended intake daily."
You can also find betalains, hydroxycinnamates, and flavonoids in dragon fruit. These antioxidants protect cells from unstable molecules that are linked to aging and chronic diseases. []
How to Cut Dragon Fruit
You don't want to eat the skin of a dragon fruit. That's why it sometimes gets compared to a kiwi or an avocado.
These steps will help you access the interior pulp quickly and easily so that you can enjoy the flavors and nutrients of dragon fruit.

Step #1: Cut It in Half
Place the dragon fruit on a secure cutting board. You'll want to have a sharp knife available to slice through it. You'll notice that the skin's surface is comparable to a mango.

Step #2: Remove the Skin
When you remove the skin from a dragon fruit, you can use two proven methods for a successful result.
Peeling the skin away is possible if you cut the fruit into fourths. You can remove it the same way a peel from a banana comes off.
You can scoop the pulp out of the dragon fruit like you would with an avocado.

Step #3: Cut into Smaller Pieces
You can turn the dragon fruit into thin or thick slices. It all depends on how you plan to present and eat it.
Slicing the fruit is the easiest method. You can scoop out the pulp and cut it into whatever size you prefer.
Cut the slices into cubes if you want a more consistent presentation with the dragon fruit.
You can use a melon baller to create smooth spheres of pulp to enjoy.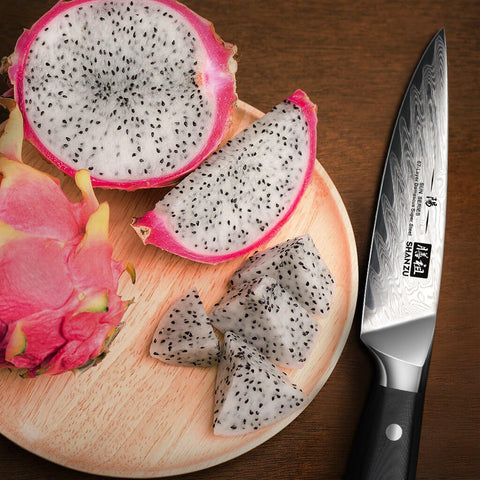 Dragon Fruit Recipes: 10 Ways to Eat Dragon Fruit
It can be lots of fun to do some culinary experiments with dragon fruit. Here are some of the best ways to use this product right now.
1. Blend into Smoothies
Dragon fruit works in almost any smoothie. Since it adds some texture and dimension, it works well as a banana replacement. You can also pair it with coconut, strawberry, or matcha flavors. If you prefer green smoothies, try adding some to fresh processed kale.
2. Create Stunning Bowls
You can turn dragon fruit into an ice cream-like product by mixing it with almond milk. Add a little ice to the mixture for added texture. Once you get the correct consistency, pour it into a bowl with a bit of granola, shaved coconut, and local honey.
3. Slice into Salads
A sweet summer salad with dragon fruit can be a refreshing experience without being overwhelming. Anything that would incorporate strawberries can use this ingredient as a substitute.
For an added flavor burst, try using a pomegranate vinaigrette for a touch of acid that adds depth to the flavor profile.
4. Make a Sweet Dragon Fruit Salsa
Dress up a main course that features seafood by adding a dragon fruit salsa. You can chop some grilled pineapple to add to your white squares while topping off the mixture with some lime juice, lemon juice, cilantro, and olive oil.
If you want some salsa with a kick, try adding a touch of ground cayenne to the mix.
5. Whip Up a Dragon Fruit Salad
You can add dragon fruit to any fruit salad recipe you enjoy. One of the best options is an ambrosia salad, which incorporates pineapples, mandarin oranges, fresh coconut, and marshmallows.
6. Make Dragon Fruit Poke
Poke is taking the world by storm. You can substitute the ahi tuna from a bowl with dragon fruit to create a vegan-friendly recipe. Add some edamame, avocado, cucumber, radishes, carrots, and brown rice to have a fulfilling dish.
7. Create a Dragon Fruit Kebab
The different shapes you can carve out of dragon fruit make it an attractive addition to any kebab. For a fun and healthy snack, use a hefty skewer with your favorite fruits, including apples, pears, and others with dense flesh.

8. Prepare Dragon Fruit by Itself
You cadragon fruit without any preparation. Slice it in half with a sharp knife, scoop out the flesh, and enjoy!
If you want to add flavor complexities to this snack, try dipping it in a little honey, followed by a touch of chili powder.
9. Make a Dragon Fruit Sorbet
You can make a dragon fruit sorbet by mixing about five cups of it with one cup of sugar. Blend it together to create a base. It should be completely liquefied. You can strain it to remove the tiny seeds if you want. Add one teaspoon of lemon juice, then chill it overnight.
You'll need to churn it in the morning for about 15 minutes. Transfer the sorbet into containers and freeze for about four hours.
10. Create Dragon Fruit Ice Cream
You can make no-churn ice cream with dragon fruit that will have all the neighbors talking! Here are the steps to follow.
Pour a prepared ice cream base (heavy cream, sweetened condensed milk, and dragon fruit extract) into a freezer bag.
Place that bag into a larger one. Place ice and rock salt around the mixture before sealing it.
Shake the bag for about ten minutes.
Where to Buy Dragon Fruit
Dragon fruit is exotic enough that it isn't always available at local grocery stores. If you have an import market in your community, there's a greater chance of finding something fresh there.
You can also purchase dragon fruit online from some marketplaces. It is a little more expensive to shop online because of the extra shipping costs.
How to Select and Store Dragon Fruit
The leathery and colorful skin of a dragon fruit indicates that it is an excellent specimen to select.
If the flesh feels firm, you can store it on the counter for a few days to help it ripen.
Once a dragon fruit becomes soft, it's time to transfer it to your refrigerator or a cool, dark environment. Storing it in a plastic bag or container can preserve its quality for a few extra days.
When Is Dragon Fruit in Season?
Since dragon fruit comes from equatorial climates, it's a fruit that can be grown all year. Anywhere with a hot summer and a warm winter is a great place for this crop. []
That's why you'll see the biggest dragon fruit producers are in the Americas, the Caribbean, Australia, and Southeast Asia.
Crops grown in the United States are in season during the summer months.
Knife Recommendations for Cutting Dragon Fruit
A sharp knife is essential for those who want to enjoy dragon fruit. Although it slices relatively easily, a dull blade can cause bruising or create unwanted textures on the pulp.
That's why SHAN ZU knives are the preferred tool to use when you want to enjoy dragon fruit more often.
Here are the best knives to consider using from SHAN ZU.
1.3.75-Inch GYO Series Paring Knife
This knife does an excellent job of producing precision cuts. It slices with fantastic detail, delivering the speed needed for hand peeling when preferred. The blade is made with 67 layers of Japanese AUS-10V high carbon steel. Since it uses a thin double-bevel design, it's exceptionally thin for sharpness.
2.15-Centimeter SUN Series Utility Knife
This authentic Damascus knife offers a beautiful pattern that quickly processes dragon fruit. You'll find the size creates efficient work, using a full tang design that works well in either hand. Once you've finished your slicing work, you can easily transition to the other ingredients in your recipe.
3.18-Centimeter Classic Series Santoku Knife
When held in your hand, this knife is a multifunctional masterpiece for the home. It cuts, dices, and slices with simple precision. It's tough enough to carve meat from the bone, yet it is gentle enough to preserve the best attributes of a dragon fruit. The blade contains up to 18% chromium to prevent tarnishing and corrosion.
4
.
8-Inch Pro Series Chef's Knife
With exceptional precision and sharpness, this knife is a multipurpose workhorse for the kitchen. It easily handles every task, including preparing a dragon fruit for smoothies, fruit salads, and more. The hammered tsuchime pattern adds visual value to this investment while offering a rust-resistant finish you'll appreciate.
Are You Ready to Enjoy Some Dragon Fruit Today?
Dragon fruit is a versatile ingredient that works well by itself or in numerous recipes. You can treat it as a healthy snack, a sweet dessert, or a critical addition to a salad or a main course.
After selecting your dragon fruit, it helps to have a reliable knife available to cut, slice, and dice to your heart's content. SHAN ZU knives deliver a consistent result time and time again.
The only question that remains is this: are you ready to start eating more dragon fruit?