Köln - The Undisputed French Capital Of Cutlery!
content List
Intro:
Cologne (Köln in German) is the largest city in the German western state of North Rhine-Westphalia and the fourth-most populous city in Germany. This city on the Rhine has plenty to offer: The Cologne Cathedral is well known to everyone and always worth a visit! But beyond that, cultural travelers, as well as the people of Cologne themselves, will find numerous other highlights worth seeing, from Cologne's museums and Romanesque churches to a multitude of monuments and fountains. The people of Cologne are particularly proud of the Chocolate Museum right on the Rhine. Here there are all kinds of things to nibble on and many sweet Cologne specialties. You can stroll through quaint alleys with traditional houses and countless breweries in Cologne's Old Town.
Whether in summer, autumn, or deepest winter, Cologne exudes a very special charm with its lively and colorful nature and its joyous attitude and party spirit. The metropolis on the Rhine looks back on a history of over 2000 years, making it one of the oldest cities in Germany. It is therefore not surprising that there are many impressive buildings, exciting museums, modern architecture, and attractive sights without end. If you ask a Cologne resident why you should definitely take your next city trip to Cologne, he will answer: "Because Cologne is the most beautiful city in the world. Or in Kölsch: "Do bes en Stadt met Hätz un Siel. Hey Kölle, do bes e Jeföhl!". This statement probably sums it up best.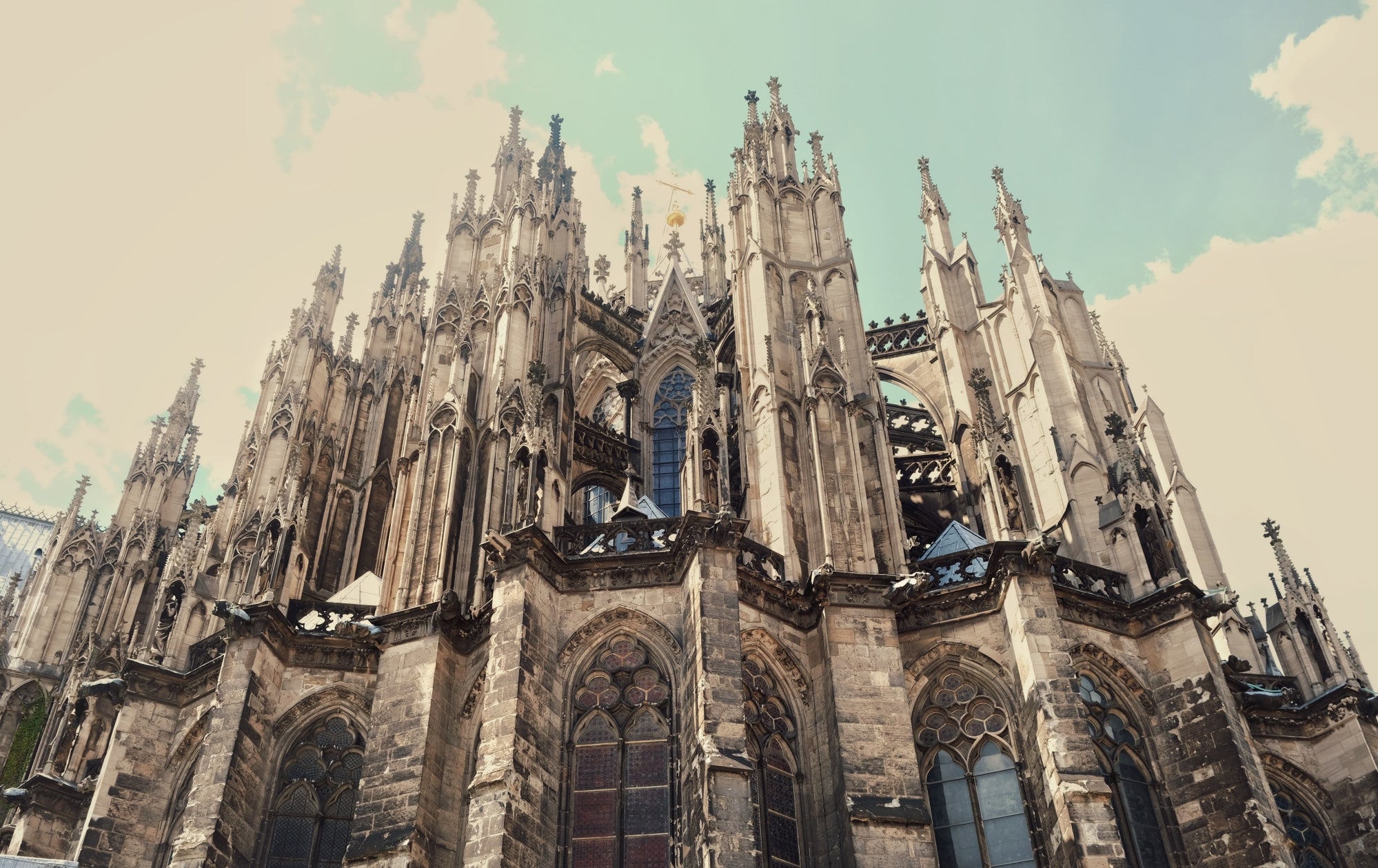 In Cologne, you will get your money's worth as a gourmet: With over 1240 restaurants, 120 bars, 11 star restaurants, 770 pubs, and 660 snack bars, there is a meal to suit every palate. Cologne's lively brewery culture will also give you a taste of the Cologne way of life and Kölsch culture. So if you're looking for new culinary experiences, Cologne is the place to be. The variety in Cologne is great: enjoy vegan specialties or fortify yourself before your adventure with typical breakfast-to-go specialties. If you love tasty and uncomplicated cuisine, you will be delighted with Cologne specialties, because they will give you a taste of Cologne. The most important thing in cooking and in life, in general, is love. The love for the city of Cologne can be perfectly expressed with the Cologne Cathedral chocolate or other sweets in the shape of the cathedral, such as the colorful fruit gums "Cologne Cathedral".
Speaking of memories, these sweets are the perfect gift ideas to give away or enjoy yourself. Also recommended, are the various mustards and spreads of the brand Chef de la Kösch. Simply real Cologne specialties! Be sure to try and see for yourself! Of course, if you are a cooking enthusiast, you can't miss the chance to purchase some kitchenware from these very well-stocked kitchen supply stores. Professional tools, along with good food, are certainly the basis for joy in cooking. A perfect cook is only half as good without well-equipped kitchen utensils. With us, you will find a wide selection of the best cutlery, where you will find local professional kitchen knives, kitchen utensils, kitchen accessories, etc.
To ensure you make the most of your culinary-shopping time, be sure to read through our list of the top Küchenmesser-Geschäfte to visit in Cologne.
1.Victorinox Store Cologne
Intro:
Originating from inside a cutler's workshop in 1884, Victorinox stands for quality, functionality, innovation and iconic design, and has done for more than 130 years. Today, Victorinox is a global company with five product categories: Swiss Army Knives, Household and Professional Knives, Watches, Travel Gear and Fragrances.
Store information:
(1) Address:Wallrafpl. 2, 50667 Cologne, Germany
(2)Open hours:
Monday 10AM-7PM
Tuesday 10AM-7PM
Wednesday 10AM-7PM
Thursday 10AM-7PM
Friday 10AM-7PM
Saturday 10AM-7PM
Sunday Closed
(3)
Victorinox Store Köln Details
(4)Phone:+4922128067270
Customer Review:
One reviewer Says:"I'm an avid Victorinox collector, so I visit their flagship stores all over Europe. This a favorite because of the super service from mega-friendly staff who are passionate and knowledgeable about their product."
One reviewer Says:"Passed by as a tourist, but was treated as a regular customer and eye for the fact we don't pass by the shop everyday. We got our pocket knife serviced and send back home by postal service. This is what a brand makes great, good service of there products even years after you bought them."
One reviewer Says: "Traveling in Europe in a small group. On the first day, I wanted to get a small pocket knife (couldn't bring mine from the USA in my carry-on backpack). I selected a basic one-handed folding knife. Before purchasing, the store representative advised that (in Germany) I wouldn't be allowed to carry it in my pocket, but if I selected the same model in two-handed version, I could. Made the switch and am happily on my way! Many thanks to my VictoriNox dude!"
2.Küchenfinesse | Küchenladen für Messer und Küchenutensilien Köln
Intro:
KÜCHENFINESSE is a small kitchen store for knives and kitchen utensils in the heart of Cologne. Here you will find professional kitchen tools from oyster knives to roasters, copper pots, pans and cutting boards to chasing knives. Our small kitchen store is a treasure trove for all who love to cook and enjoy. As a specialty store, we carry branded items from Alessi, AdHoc and BAF Fischbach (test winner crepe pan in Servicezeit) to De Buyer, Forge de Laguiole, Güde, Global, Le Creuset, Mauviel, Nesmuk, Peugeot, Triangle, Wüsthof to Zassenhaus and many more.
Store information:
(1)Address: Gertrudenstraße 29, 50667 Köln, Germany
(2)Open hours:
Monday 10:30AM-7PM
Tuesday 10:30AM-7PM
Wednesday 10:30AM-7PM
Thursday 10:30AM-7PM
Friday 10:30AM-7PM
Saturday 11AM-7PM
Sunday Closed
(3)
Küchenfinesse | Küchenladen für Messer und Küchenutensilien Köln Details
(4)Phone:+492212806875
Customer Review:
One reviewer Says:"Highly recommended store for top quality household goods. All questions are answered patiently and articles are even practically demonstrated. No online retailer can do that! "
One reviewer Says:"Great service, great, detailed advice and high-quality equipment."
One reviewer Says:"Well sorted specialist shop, very friendly and helpful owner with competence and good advice!"
3.ZWILLING J.HAS. Henckels Shop München
Intro:
Zwilling J. HAS Henckels AG is a German knife-maker based in Solingen, Germany. It is one of the largest and oldest manufacturers of kitchen knives for domestic and professional use, having been founded in June 1731 by Peter Henckels. The brand's namesake was Johann Abraham Henckels (1771–1850), who renamed the brand after himself under his leadership. J.HAS. Henckels is one of the leading manufacturers of chef's knives.
Store information:
(1)Address:Wallrafpl. 9, 50667 Cologne, Germany
(2)Open hours:
Monday 10AM-7PM
Tuesday 10AM-7PM
Wednesday 10AM-7PM
Thursday 10AM-7PM
Friday 10AM-7PM
Saturday 10AM-7PM
Sunday Closed
(3)
ZWILLING J.HAS. Henckels Shop München Details
(4)Phone:+4989222135
Customer Review:
One reviewer Says:"Fantastic place to buy top of the line chef knives."
One reviewer Says:"German quality knives. Life time quality knives!"
One reviewer Says:"Great advice, if you want Profmesser, huge selection, and very nice salespeople. not compulsive. You will also be advised very politely and professionally."
4.Tramontina – classic and high-quality housing
Intro:
In the town of Carlos Barbosa, in the south of Brazil, the Tramontina company took the first step on its long road to success in 1911. The small forge created by Valentin and Elisa Tramontina became the basis of a company that today consists of 10 factories. An industrial park with headquarters in the states of Brazil Rio Grande do Sul, Pará and Pernambuco. 18,000 products are produced there in the individual factories, both for the national market and for exporting to over 120 countries. TRAMONTINA knives are the perfect tools not only for self-confessed steak and BBQ lovers: TRAMONTINA gives you the optimal cutting tool for almost every culinary challenge - whether meat, pizza, bread, vegetables or fruit.
Store information:
(1) Address: Kamekestraße 21, 50672 Köln, Germany
(2)Open hours:
Monday 9AM-5PM
Tuesday 9AM-5PM
Wednesday 9AM-5PM
Thursday 9AM-5PM
Friday 9AM-5PM
Saturday Closed
Sunday Closed
(3)
Tramontina – classic and high-quality Haushaltswaren Details
(4)Phone:+4922177899910
Customer Review:
One reviewer Says:"Without a doubt the best products I've always had were tramontina, I'm happy to find it here in Germany too! "
One reviewer Says: "All of the best quality. Good to have Tramontina in Germany!!!"
One reviewer Says:"Best cutlery in the world, now in Germany too."
5.WMF Munich
Intro:
WMF was originally called Metallwarenfabrik Straub & Schweizer and was opened as a metal repairing workshop. Through mergers and acquisitions, by 1900 they were the world's largest producer and exporter of household metalware, mainly in the Jugendstil, or Art Nouveau style, designed in the WMF Art Studio under Albert Mayer, sculptor and designer, who was director from 1884 to 1914 .
The group holds six brands (WMF, Silit Kaiser, Schaerer, Hepp and Curtis) is represented in over 40 locations worldwide and has almost 200 company-owned branches in Germany, Austria and Switzerland. The WMF Group produces household and hotel goods, including cookware, kitchen appliances, cutlery, drinking glasses and professional coffee machines.
Store information:
(1) Address: Schildergasse 106-108, 50667 Köln, Germany
(2)Open hours:
Monday 10AM-7PM
Tuesday 10AM-7PM
Wednesday 10AM-7PM
Thursday 10AM-7PM
Friday 10AM-7PM
Saturday 10AM-7PM
Sunday Closed
(4)Phone:+492212576572
Customer Review:
One reviewer Says:"I would like to thank WMF for the great shopping experience! In addition to the very detailed and professional advice, which really left no (detailed) question unanswered, it was also particularly positive that you can test the products very closely and not just look at them."
One reviewer Says: "Great Service. I came with an unusual request with a piece of cutlery that was a bit older and I was immediately helped in a friendly manner. The parts have been replaced or renewed. Can only recommend the shop. Will definitely look for or buy new or additional parts there first."
One reviewer Says:"My wife and I buy a lot from WMF. Our entire household consists almost exclusively of wmf products. The shop has a lot to offer and the staff are very friendly. Only and alone would I wish, if one wants to have a product packed as a gift with creativity."