QUICK VIEW
The most important in a nutshell: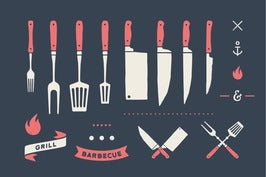 Soon it's that time again - the barbecue season starts! With the right barbecue knife, you are well prepared for the next barbecue. Just like in the kitchen, you also need the right tool at the barbecue to cut meat and vegetables quickly and safely. But what would a barbecue evening be without a barbecue knife? They can be used to prepare meat, fish, and vegetables on the grill. There are different types of grill knives. Which one is right for you?
There is a whole range of knives that are perfect for preparatory work or are extremely helpful during the barbecue itself. When we think of a well-organized barbecue, we think of a few steps where we use different knives and are happy when the same does a good job. "Good job" in this case means that the knife is sufficiently sharp, cuts cleanly, is comfortable to hold, is of high quality, has no rusty spots, and, best of all, does not cost a fortune. In a word, good knives are essential for a good barbecue.
BBQ knives come in a variety of designs. They differ in size, shape, and material. Most barbecue knives are made of stainless steel. However, there are also models made of wood or plastic. The shape of the grill knives varies. There are straight, curved or crooked grill knives. The size of the grill knives varies from small to large.
A BBQ knife is characterized by its excellent sharpness. In addition, it is relatively stable and can be held well in the hand.

When buying a BBQ knife should pay attention to the quality of the material. Stainless steel or Damascus steel is great for high-quality materials of knives. It could be dishwasher-safe.

A BBQ knife makes it easier to cut grilled food and vegetables. It is also ideal for portioning meat on the grill.
Guide: Buying the right barbecue knife model
When buying a grill knife are some points to consider. So that you also find the right grill knife, we have summarized the most important buying criteria for you here.
Size
Grill knives should have a blade length of at least 18 cm to be able to cut larger pieces of meat. It is also important that the blade is not too thin, otherwise, it will quickly become blunt.
Handling
When buying a barbecue knife should pay attention to the handling. The knife should fit well in the hand and be easy to guide. It should also be well-balanced to ensure optimal cutting. In addition, the knife should have a sharp blade to cut thicker pieces of meat without any problems.
Material
Barbecue knives come in a variety of materials. The most common is the knife made of stainless steel. It is rustproof, easy to clean, and very robust. There are also barbecue knives made of wood. These are very nice to look at, but not quite as sturdy as the stainless steel knives.
Accessories
Barbecue knives should always be equipped with sharp blade steel so that they can also cut through meat and fish cleanly. They should also have an ergonomic handle that feels good in the hand. Accessories that may be included with a grill knife are a sharpening stone, a leather case and a piece of meat pork.
Safety
Barbecue knives should have a good locking mechanism to prevent them from accidentally popping open in an emergency and becoming a hazard. They should also have hand guards so that fingers are not injured when cutting. Additionally, it is advisable to make sure that the grill knife is well-balanced, otherwise, it will be harder to achieve precise results when cutting.
Price
Barbecue knives come in many different price ranges. For little money, you can already get a knife that is made of stainless steel and has a practical wooden or plastic handle. However, if you want to buy a high-quality barbecue knife, you should be ready to pay a higher price. These knives are made of high-quality material and have a noble wooden handle.
So which are the ultimate grill knives?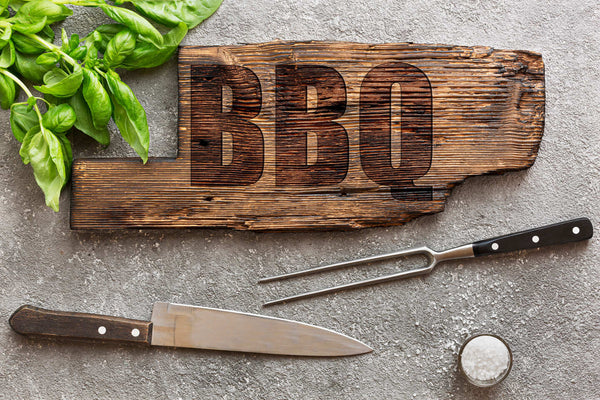 There are quite a few knives for quite a few jobs in food preparation. Hardly anyone who cooks or grills as a hobby will acquire such an arsenal of knives. But there are a few basics that should not be missing in any kitchen or barbecue. Here is a small selection of BBQ knives for you.
A brisket knife is a large carving knife specifically for carving beef brisket. Brisket is a very popular barbecue specialty made from brisket, tender juicy meat with a crispy crust. The crust is often too crispy for a smooth knife, but a saw-ground knife usually damages the inner structure of the meat.
Professional filleting of fine meat
There's nothing like a beautifully grown piece of meat, from which you can then fillet out slices of suitable size yourself. If you want to do this yourself, you need a grill knife with an extremely sharp and flexible blade.
Best results with a chef's knife
A normal chef's knife is reliable, universal and suitable for both meat and vegetables. We recommend the SHAN ZU Pro Series Damascus chef's knife with 8 Inch blade for use as a grill knife for the necessary chopping and slicing before the barbecue. Thanks to the wide and sharp blade, this knife is ideal for cutting or chopping vegetables and equally for dicing or cutting meat and fish.
Best for skinning and detaching meat, bones and tendons
The boning knife is one of the specialists among kitchen knives. The boning knife is designed for working with meat. The slender blade makes it very easy to remove the meat from the bone. Skin and tendons can be easily removed.
The all-purpose knife for the trimmings
For cleaning vegetables or smaller cutting tasks, it can sometimes be a more handy barbecue knife. The SHAN ZU Pro Series Paring Knife is a good choice. With this knife, you can confidently prepare everything you need before the long-awaited barbecue.
Sharpening barbecue knives properly
Whether it's a large chef's knife, a sharp filleting knife or a handy all-purpose knife - all barbecue knives need to be sharpened regularly and professionally. We have also picked out a suitable product for this task. We recommend the SHAN ZU #1000/#5000 Grit with Box. The Whetstone is extremely handy and especially suitable for inexperienced grinders.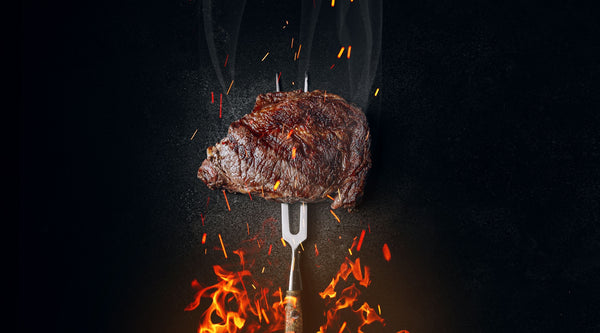 Beyond that, a lot depends on one's own preferences and, of course, on what actually goes on the grill. And whether a grill master chooses the German, Japanese, or Chinese form of a chef's knife will therefore not change anything in terms of taste and grilling results.
Rather, it's about personal preferences when working with the tool "knife", about the individual perception of comfortable working and, of course, about how crazy the heart beats for a hobby!
While the barbecue minimalist might limit himself to a few special knives and there pay attention to upscale quality, there are those barbecue fans who hoard a whole drawer full of kitchen knives anyway. Who works on his tomato with a tomato knife or with the already existing chef's knife, therefore, everyone decides for themselves.
Summer is in full swing and I hope you're out grilling every night, enjoying the fresh air and cooking over an open fire. To ensure you have a satisfying grilling experience, these are the grilling tools you need to have in your arsenal. Barbecue tool sets make great gifts for avid grillers. You can never go wrong with a good set of grill tools. So whether you buy one for yourself or another grilling enthusiast, it's always a good investment.